Ultimate Guide to Curly Hair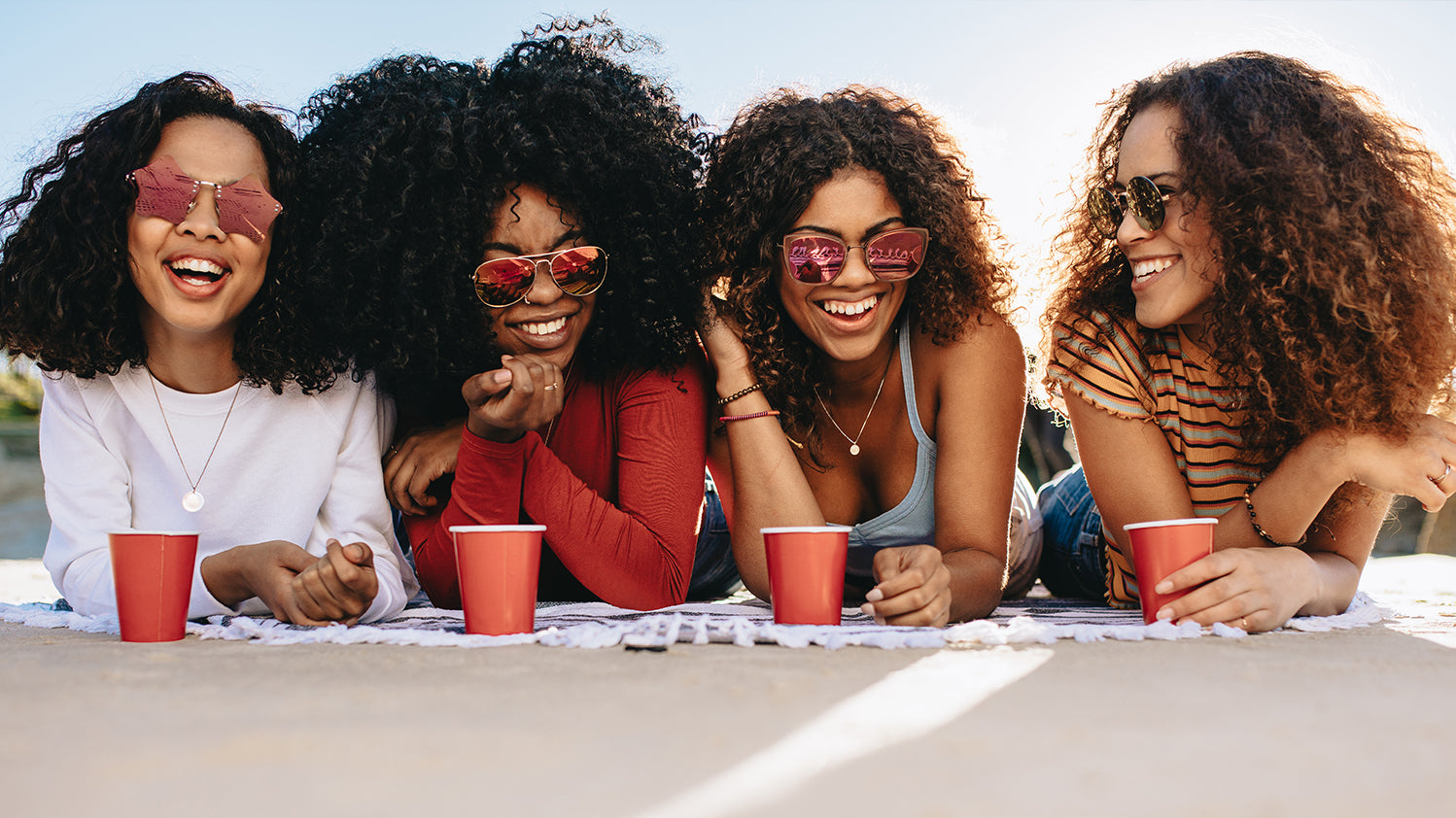 Curly hair comes in many forms, and this guide will enlighten you on everything you need to know to care for this type in the best way possible. From how to identify your curls, to how to wash and care for them, with this knowledge, you'll have gorgeous, bouncy curls in no time!
Characteristics of Curly Hair
Curly hair, also known as type 3 hair, is one hair type. This can further be broken down into type 3A, 3B, and 3C hair, depending on how tight the curl pattern is. Curly hair is described as having either 'O' or corkscrew-shaped curls. These curls can range anywhere from loose to as tight as a pencil diameter.
Wavy hair on the other hand has a slightly different curl pattern because it is typically in between straight and curly hair. This means the waves can appear looser and more tousled. Whereas coily hair differs again because the characteristics of this hair type mean the pattern is a lot tighter. Seeing the appearance as more of a 'Z' formation.
Once you've discovered that you have curly hair, it's important to also find your hair porosity. Depending on whether you have high porosity, medium porosity, or low porosity, you will want to care for your curly hair in different ways.
Type 3A Hair
Type 3A hair has large, loose curls that tend to be about an inch in width. Some areas tend to become flatter as the days go, especially the ones close to the nape of your neck. To preserve the texture as long as possible, it's important to protect your curly hair when sleeping by using a bonnet, satin scarf, or a satin pillowcase.
Type 3B Hair
3B hair has a tighter corkscrew pattern that tends to be around the width of your little finger. Definition is key to enhancing this curly hair pattern, so working with stronger-hold styling products like gels can help keep your curls springy and bouncy for longer.
Type 3C Hair
3C hair consists of very tight curls, about the size of a drinking straw. The curls are very dense, which leads to 3C hair having generally lots of volume. It's the driest curly hair type, so it's absolutely crucial to lock in moisture by deep conditioning regularly and using a leave-in before your styling products.
How Should You Wash Curly Hair?
Curly hair tends to be quite dry, so it is key to ensure you are not stripping your hair too much of its natural oils. We recommend washing only 2-3 times per week with a gentle shampoo like our Essential Moisture Shampoo. If you feel like you need to wash more often than that, we recommend using our Curl Quenching Conditioning Wash instead, as the gentler nature of the co-wash will help maintain curly hair's natural moisture. You should also introduce a clarifying shampoo like our Wash & Scrub Detox  in your routine every 4-5 washes to really purify the scalp from build-up. And don't forget the conditioner! Moisture is super important for any curl type, so always use a conditioning product every time you wash your curly hair. When it comes to deep conditioning you should incorporate a treatment into your routine once a week, such as our Double Cream Deep Quencher. This will help to nourish your hair, keeping it soft and healthy too.
Top Tips: How to Style Curly Hair
Having the right techniques and products is essential for styling curly hair. Knowing how best to style your hair will make sure it's always looking its best! We've put together our favourite ways of styling curly hair.
Apply your products on soaking-wet hair. This will help disperse the product and ensure it covers all curls, helping to prevent frizz.

Always use a leave-in conditioner. Curly hair tends to be dry, and a leave-in is the best way to ensure moisture stays locked in for longer. 

Layer a styling product to achieve the best results. For example, rake a gel such as  

Curl Defining Styling Soufflé

 all through your curls.

Apply your styling products with your head upright to have more control over the application, and then flip your head upside down and scrunch to encourage curl formation in your curly hair.

You can either

 diffuse or air dry

, depending on if you're looking for a more voluminous style or more defined curls.

Don't touch your curls while they are drying. This will help create a 'cast' around them, a slightly crunchy layer that prevents the development of frizz. No need to worry about the crunchiness; once your hair is fully dry, you only need to gently scrunch it to break the cast and reveal soft, bouncy curls.

Use a 

hair pick

 at your roots to encourage volume in your curly hair
How to protect curly hair in between washes
If you want to ensure your curls last until the next wash, it is very important to protect your curls at night. To keep your curly hair from rubbing and pulling on your pillowcase, we recommend using a satin pillowcase. In addition, to avoid crushing your curl, loosely tie your hair up in a pineapple on the top of your head using a satin scrunchie to preserve the curls on your lengths and ends.
How to refresh curly hair
Curly hair is often very prone to frizz, so if you want to maintain your style until the next wash we recommend refreshing. You may not need to refresh daily as wavy hair does; you can do it when needed based on how well your curls hold. Here are our top refreshing tips:
Spray your hair with water using a

 water mist spray bottle

. Water will soften the stylers you have previously applied and help the fresh products glide on more effortlessly.

Always use some type of cream to refresh. Most frizz is due to a lack of moisture, so adding some back into the curls will help to tame it. Our 

Moisture Memory Reactivator

 is a super convenient way to do it.

If you feel the curls are losing shape, add a bit of gel with a gliding motion on the areas that need it most.
About Curlsmith
Curlsmith produces premium, gourmet hair care products to help nourish curly hair. Our wide range of products uses food-inspired ingredients to help to lock in moisture and care for your curls. We only use clean, curl-loving ingredients in all of our ranges, whether that be our strength line, our scalp line or our moisture line. We also pledge never to test on animals. Take our curl quiz to find the perfect routine to feed your curls today!