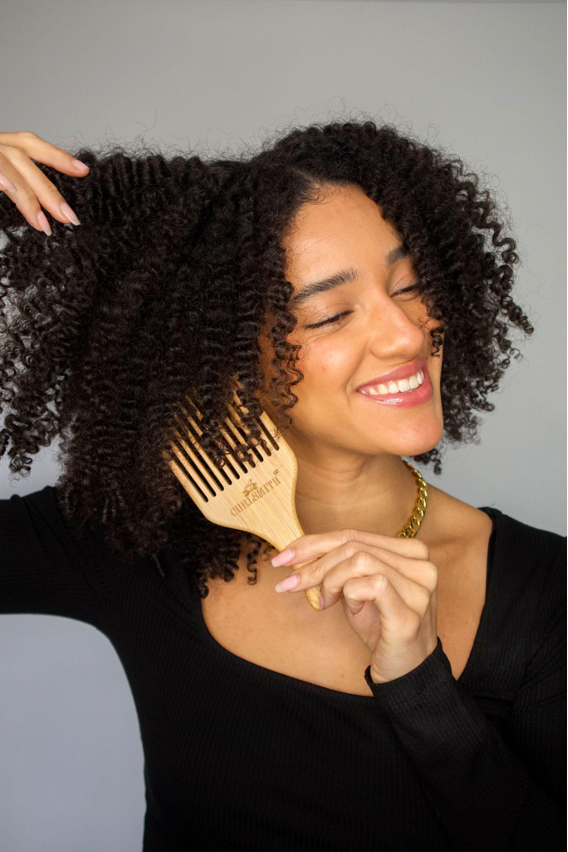 Our new bamboo hair pick is perfect for your curly hair tool collection. Whether you have done a wash and go, twist out, or braid out, it's the best tool to fluff out those curls, add volume and make them pop every wash day. 
When it comes to curls, there are endless tools to purchase. So why would you benefit from our Bamboo Pick?
Features and Benefits
The material is not only environmentally friendly but also benefits your curls. The wood allows the sebum from the roots to travel throughout the strands, and the tapered teeth mean that you can insert the pick into your hair easily, even on the tightest curl types.
Keep on reading to find out who this tool is suited to, the top tips, and how to use it. 
Who is it for 
As with all Curlsmith tools, our Bamboo Pick suits all curl types. This tool allows anyone to achieve lived-in, fuller, bouncy curls. 
Top Tips
Using a pick can be significant in creating big hair. However, if misused, it could ruin your finished look or cause damage. For best results, follow our top tips. 
Use On Dry Hair
Once your curls are styled, you must leave them to dry 100% without touching or disturbing the drying process. If you attempt to use your new Bamboo Pick while your tresses are damp, you will lose your definition and cause frizz.
Don't over pick your curls
There's a fine lining between fluffing your curls and creating unwanted frizz, so don't over-pick. Use the pick on wash day to allow your curls to look fuller. However, use it much less on day 2 or 3. Instead, use your hands and shake your curls out. That way, you will retain the curl definition but still have volume.
Comb Carefully
Do not insert at the root, and try to pull the pick throughout the lengths and ends. Not only will this create unwanted frizz and loss of curl definition, but it could also cause breakage. Instead, insert the pick at the roots and gently pull a few inches upwards to achieve volume. Repeat this action through the lengths of your curls to create volume and fullness. 
At this point, you should be excited about our new tool, but how exactly do you use it?
How to Use 
Using a pick can be simple when you know how. Check out our simple how-to video to create the perfect finish.
Finish your look with Curlsmith
How amazing do those curls look with the help of our pick? It is true what they say, bigger is better. If you need extra oomph at the end of your styling routine, do not hesitate to try our pick. You will surely achieve that fuller finish with our guide and how-to video.