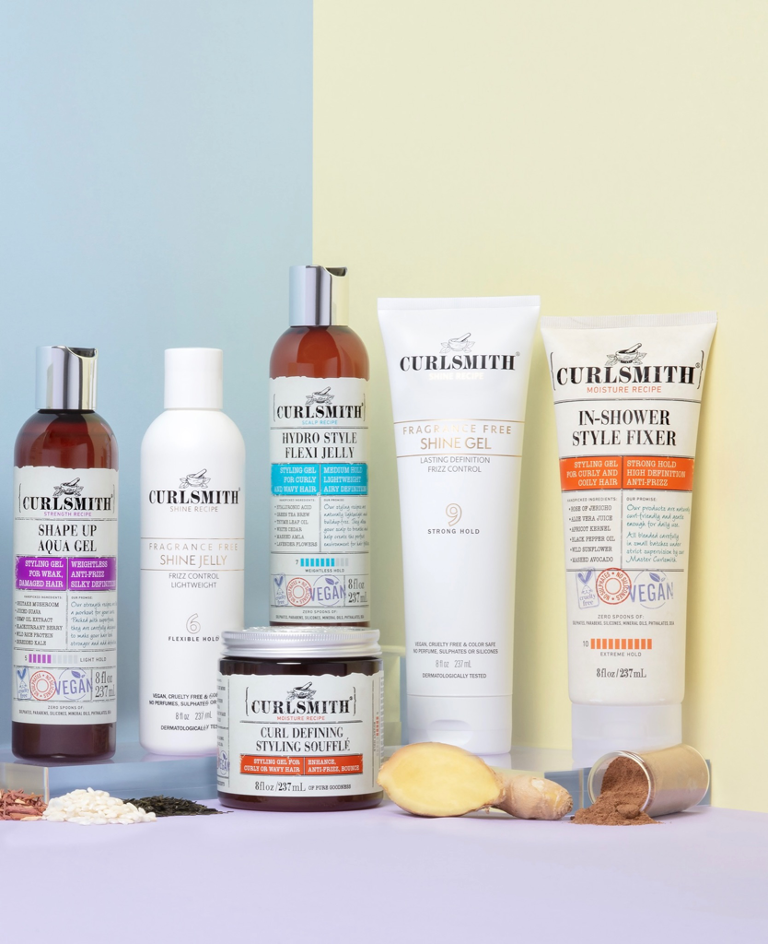 The best gels for curly hair are great for hold and definition, but have you ever tried to search for one online? The choice is overwhelming. Thankfully the following guide will help to determine the best gel for your individual needs. With a range of light, medium, and stronghold gels, Curlsmith has you covered, and the best part is that our range is suitable for all curl types.
Different Types of Hair Gels Explained
Curlsmith's Best Hair Gels for All Types of Curls Hair
Best For Protection Against Humidity
Different Types of Hair Gels Explained 
Some gels can leave your curls feeling stiff and dry, but you can trust that Curlsmiths selection will leave your hair feeling bouncy and defined. Our styling gels fall into three variations; jelly, souffle, and gel. Let's take a look at how they differ.
Jelly
Our Jellies have been designed for those that feel like regular gels weigh down their curls. The light silky consistency spreads easily through the hair, coating all the strands with the risk of buildup. If you require a medium hold try our Hydro Flexi Jelly or Shine Jelly. Alternatively for a light hold try our Shape Up Aqua Jelly.
Souffle
Our Curl Defining Souffle has a gel o-like texture and offers the benefits of a cream and gel styler. Its great for those that feel like a gel makes the hair stringy. The silky custard is infused with moisturising such as Bassuba 
Gel 
Our gels have a thicker consistency that sets your curls in a strong cast to provide long lasting, frizz control and weather resistant curls. Although the gels offer a strong hold once your curls are fully dried and the cast is broken you will be left with soft bouncy tresses.
Guide to Hold
Our Curlsmith stylers have a number system of 1-10 to indicate the level of hold offered; one being light hold and 10 being strong hold. All gels leave a cast on the hair as it dries to set the curls. However, the stronger the hold the more prominent the cast. Once the hair is 100% dry, scrunch the crunch with one of our oils to reveal juicy, defined curls.
Curlsmith's Best Hair Gels for All Types of Curls Hair 
Now that we have defined the gels in our range, let's take a closer look at the best gels to suit your needs.  
Best Selling Gel
When considering the best gel for moisture and hold, look no further than our Curl Defining Souffle. Featuring ingredients such as Shea, Avocado, and Sunflower oil for ultimate moisture. And Irish Moss, a styling agent that provides hold and definition. It's a great all-rounder styler suitable for all curls and texture types. Our souffle is ideal for those that want the benefits of a cream and gel in one.
Best for Strong Hold 
Our strongest hold Gel is our In Shower Style Fixer from our moisture recipe range. This strong hold gel offers ultimate definition and long-lasting results. Although this provides the strongest hold in our range, it doesn't leave you with crispy curls. I mean, although we want a stronghold, that doesn't mean that we don't want our tresses to be able to move when the wind blows.
Key Ingredients: Andiroba, Indigneous plant of the Amazon forest known for its known properties. Avocado, apricot kernel and sunflower oil for added nourishment.
Aloe, sage, and rosemary, pepper and basil extracts, known for their antioxidants properties.
Best For Damaged Curls
When your curls are damaged, you want to be sure that even your stylers are providing protein to help strengthen your tresses back to life. Our Shape Up Aqua Gel will do just that. The super-light consistency easily glides throughout your strands and provides flexible definition with a light hold to ensure that you don't compromise on volume. This gel is the best in our range for all damaged curl types.
Key Ingredients: Hemp Seed and Rice Protein complex, a plant based alternative to animal keratin that helps the hair look stronger and more elastic. A powerful patent active that targets and fortifies internal hair structure. A  blend of nutrient rich superfoods such as, prickly Pear, Guava, Shitake Mushroom, Kale, Blackcurrant, and Pumpkin Seeds. 
Best For Protection Against Humidity
Humidity is one thing that haunts curlies, so if a gel contains anti-humidity properties, it's a win. Our Shine Gel and In Shower Styler Fixer offer protection against humidity and provide long-lasting results. As the gels dry and set the curls, it creates a strong cast. Once the hair is 100% dry, use one of our oils to scrunch the crunch, leaving your tresses soft, defined, and bouncy.
Best for fragrance-free
Some of our curl friends experience sensitivities when using products, and others would rather not have fragrance in their stylers. Whatever the reason, we have the best fragrance-free stronghold gel and medium-hold jelly. Our Shine Jelly has a runny consistency that distributes easily onto your strands. It provides lightweight definition without compromising on volume. Alternatively, our Shine Gel provides extreme definition and long-lasting weather resistance results. Both products feature Jasmine, Hops, and Lemon peel which are known to boost shine.
Key Ingredients: A combination of styling agents that offer frizz control, definition, and flexible hold. A botanical blend of Hops, Jasmine Flower, and Lemon Peel for ultimate shine.
Best Gel for Color
For any of our curl friends who want to experience a vibrant color without fearing damaging your locks, temporary hair makeup is the product for you. It is available in five different shades and combined with a gel, so it is the perfect product for definition and color. The gel contains a blend of sustainable, ethical, and high-pigmented pearls that deposit a high pigment to the hair's surface. The intensity of the pigment allows the color to show even on dark hair. You don't need gloves to apply the gel because it doesn't stain. Once applied and 100% dry, the gel will define your curls with that pop of your chosen shade. The best part is it leaves the hair in just one wash, so you can move on to trying another shade.
Key Ingredients: Synthetic Fluorphlogopite, an ethically sourced pigment that doesn't damage the chemical structure of the hair but sits on top to provide a vibrant color. A blend of styling agents that create a strong cast to offer frizz control extreme definition and long lasting hold. A fragrant blend of blue berry, barrage, periwinkle, and Juniper extracts.
How to Use Gel Stylers
Apply to soaking wet hair after priming your hair with a leave-in conditioner. Work the product through each section using the raking method for even distribution and then follow with praying hands to smooth the product throughout your locks. Once styled, air dry or diffuse.
Style with Curlsmith
You now know the difference between a jelly, souffle, and gel, but you should also know which styler would best suit your curly needs. If you are still unsure which gel styler is best for you, take our curl quiz, which will provide you with recommendations. No matter your results, you will have peace of mind knowing that all of our products are sulfate, paraben, and silicone-free. In addition, our gels are Vegan and curly girl friendly.