Hair Oil 101: Explore Curlsmith's Best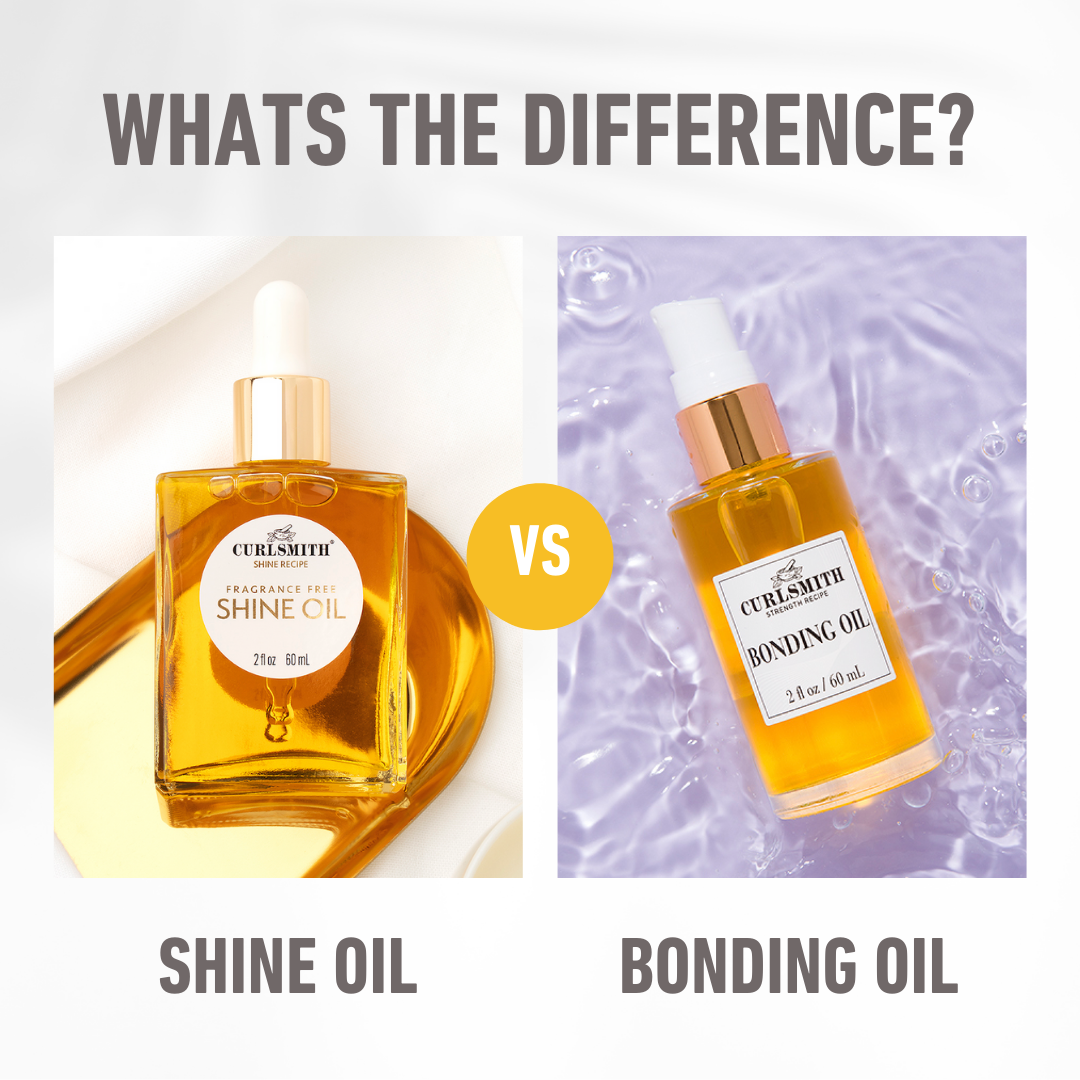 Best Hair Oil for Curly Hair
Hair oil is a great hair care product that suits all whether you have straight hair, waves, curls or coils. There is so much choice on the market when it comes to hair oils, so how do you choose one that's best for you? 
Benefits of Hair Oil
Different blends of oils offer different benefits, so look for one that meets your needs. Some benefits of oils include strengthening the hair strands, locking in moisture by sealing the cuticle, and frizz control. 
Frizz control: Oils sit on the surface of the hair, creating a barrier that prevents the hair from absorbing too much moisture from the air around it 
Strengthening: Oils fill the gaps in the hair cuticle and strengthen the bonds, preventing the hair from breaking.
Moisture retention: Oil seals the cuticle and locks the moisture in, preventing it from leaving the hair.
The various benefits of our hair oils show that we have something for everyone, and there is nothing to say that you can't have more than one in your Curlsmith collection. Your hair has different needs depending on the season or whether you have had a period of using too much heat, so don't be afraid to mix and match!
Curlsmith's Best Hair Oils 
At Curlsmith we have formulated unique blends of oils to provide you with the best products to suit straight, wavy, curly or coily hair; applicable to fine, medium and coarse textures.  
Bonding Oil
If you require strengthening properties, try our Bonding Oil;
Bonding oil consists of a unique blend of Castor Oils and Vegan Keratin which penetrates the hair shaft and targets the bonds to fortify the hair's structure. The weightless oil blend locks in moisture and seals the cuticles while preventing frizz. If your hair requires some TLC, this protein-enriched finishing oil will contribute to strengthening your hair whilst adding shine.
Suitable for: all curls types that require strengthening properties, even works on straight and fine hair 
Key ingredients: Plant silk, Vegan Keratin, Castor oil blend, Sea Buckthorn Oil, Apricot Kernel Oil
What it does: Repairs damage, seals cuticle, enhances shine
Result: Strong, soft, shiny hair
 Shine Oil
When the aim of your game is glossy hair, try our Shine Oil
Our 100% naturally derived, fragrance-free Shine Oil is a great finishing oil to make your curls shine (yes that's right, the clue is in the name). This lightweight blend contains Plant silk; a revolutionary next-generation blend of plant-based esters specifically designed to outperform silicone whilst being lighter than raw oils. Ingredients include Watermelon Seed Oil, Sea Buckthorn Oil, Murumuru Butter and Babassu which work in tandem to soften the hair, lock in moisture, seal the cuticle and add shine; suitable for all hair types.
Suitable for: All hair types, including straight hair. Great for any hair thickness; even fine hair. Beneficial for those with scalp and fragrance sensitivities.
Key ingredients: Plank silk, Watermelon Seed Oil, Sea Buckthorn Oil, Murumuru Butter and Babassu Oil
What it does: Locks in moisture, tames cuticles, smooths hair, and enhances shine
Result: Super shiny hair with a high-gloss finish
Intense Treatment Serum
For those with coarse, thirsty hair, our Intense Treatment Serum will work wonders.
When you are suffering from thirsty, dehydrated, coarse hair, our multi-use Intense Treatment Serum is the answer to your prayers. This amazing hair butter can be used as a pre-poo, overnight treatment or leave-in. The rich, nourishing butter melts in your hands as an oil, ready to be distributed through your mid-lengths and ends. The protein-free, Shea Butter based formula nourishes the hair, locks in moisture, seals the cuticles, tames frizz and adds shine.
Suitable for: Extremely dry and coarse hair 
Key ingredients: Shea Butter, Oat Kernel Oil, Jojoba oil, Avocado oil, Apricot Kernel, Macadamia Oil, Sunflower Oil, Andiroba, and Aloe, Sage, Rosemary, Pepper and Basil extracts
What it does: Nourishes the hair, locks in moisture, seals the cuticles, tames frizz and adds shine. Cast breaker, split end sealer. Protects the hair from chlorine and sea salt.
Result: moisturized, smooth, shiny hair
How to Use
When using as a pre-poo;
- Section dry hair into 4 
- Work a small amount of oil into the palms of your hands 
- Work through mid-lengths and ends; gently detangle with your finger or a preferred detangling tool
- Leave to sit on the hair for 30 minute
- Shampoo, condition, and style
- Alternatively, for an intense treatment, leave overnight.
When used as a finisher;
- When the hair is 100% dry
- Work a small amount of product into the palms of your hands 
- Scrunch through the hair to break the cast created by a gel
- Alternatively, smooth through mid-lengths and ends 
Are Hair Oils Essential? 
Overall, hair oils are a must-have haircare product that features multiple benefits and can be used in various ways; pre-poo, overnight intense treatment or finisher. Curlsmith offers a range formulated with natural ingredients to suit all hair types, including those with fine or straight hair.