Full Body Thickening Lotion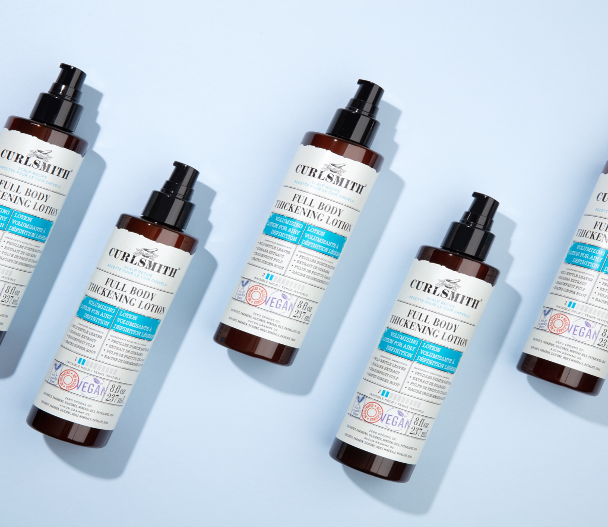 When you think of curly hair, what comes to mind? Big, juicy, bouncy curls; sounds like a dream, right? But what if we can't achieve this? Generally speaking, we don't always get what we want when it comes to curly hair, this can refer to the texture, density, colour, or length. A common issue among our curl friends is the struggle to achieve full, voluminous curls, which is often the result of fine or thin hair. However, it can be an issue for all hair types.
 Various factors, including products and styling techniques to encourage volume, curl definition, and retention, are essential when creating fuller-looking hair. However, the issues can come later, sometimes just minutes after styling. Although you may have initially achieved a fuller look, your curls can suddenly come crashing down, appearing flat and limp. This is often because the correct styler has not been applied to the hair to support that volume.
 Thankfully, Curlsmith has come to the rescue yet again with the launch of another amazing product. The Full Body Thickening Lotion is the perfect styler to help you achieve the curls of your dreams, and best of all, it's suitable for waves, curls, and coils! The Thickening Lotion combines a unique blend of ingredients to boost fullness, body, and volume while leaving the hair looking and feeling silky smooth. It does not change your hair's natural texture or density. However, it helps to create those full curls we've been longing for without that dreaded sticky residue that can be a common issue when it comes to thickening products.
 Below is a list of six informative questions to help you understand the Full Body Thickening Lotion on a deeper level.
How Much Of A Difference Will I Notice In The Fullness Of My Curls?
The result from our extensive testing determined that the thickening lotion noticeably boosts hair and increases volume up to 68% even 24 hours after the application. In addition, it keeps curls defined for more than 24 hours.
When And How Do I Apply The Thickening Lotion?
The thickening lotion is a styler designed to apply to the hair after a leave-in conditioner like our Weightless Air Dry Cream. Apply the lotion between your palms and distribute it on wet hair through the lengths and ends. Section the hair when doing so to ensure even saturation. If you want extra hold, follow with a gel and diffuse or air dry.
Does the Thickening Lotion Offer Any Hold?
The thickening lotion has a light level of hold, contributing to curl retention and airy definition. We recommend layering a styler such as our Hydro Flexi Jelly to provide a medium hold.
.
Do I Diffuse My Hair Or Leave It to Air Dry?
You can do either, but as you know, the diffuser helps to create volume, especially when using the pixie diffuse method. This involves cupping your curls in the diffuser and moving it towards the head to create volume while drying. So, with all of this in mind, although there is a noticeable difference if you air dry, the diffuser is your best friend to achieve maximum volume.
Does the Thickening Lotion Contain Heat Protection?
No, it does not contain heat protection, but you can add this with our Miracle Shield, which protects the hair from 6 environmental aggressors, one of them being thermal heat protection.
I have thin hair. Will the product make my hair thicker?
As mentioned above, the lotion does not change the texture or density of your hair. However, it creates instant volume and helps the hair appear fuller even 24hrs after application. The lotion is weightless, so it doesn't leave the hair feeling weighed down.
What Is The Key Ingredient That Provides Volume?
The unique active is Polyquaternium -110, explicitly designed to combine volume and conditioning to all hair types.
Up And Out
There's only one way up, which is easily achievable with Our Full Body Thickening Lotion, a clear staple product to add to your Curlsmith collection if you require fuller-looking, voluminous curls. All Curlsmith products are formulated using food-inspired ingredients that provide curly hair with all the goodness it needs. Our products exclude sulfates, paraben, phthalates, and drying alcohol. If you would like to know what other products would suit your hair, take our curl quiz to provide you with all the products to cater to your individual needs.