WHAT'S THE RIGHT WAY TO USE HAIR OILS?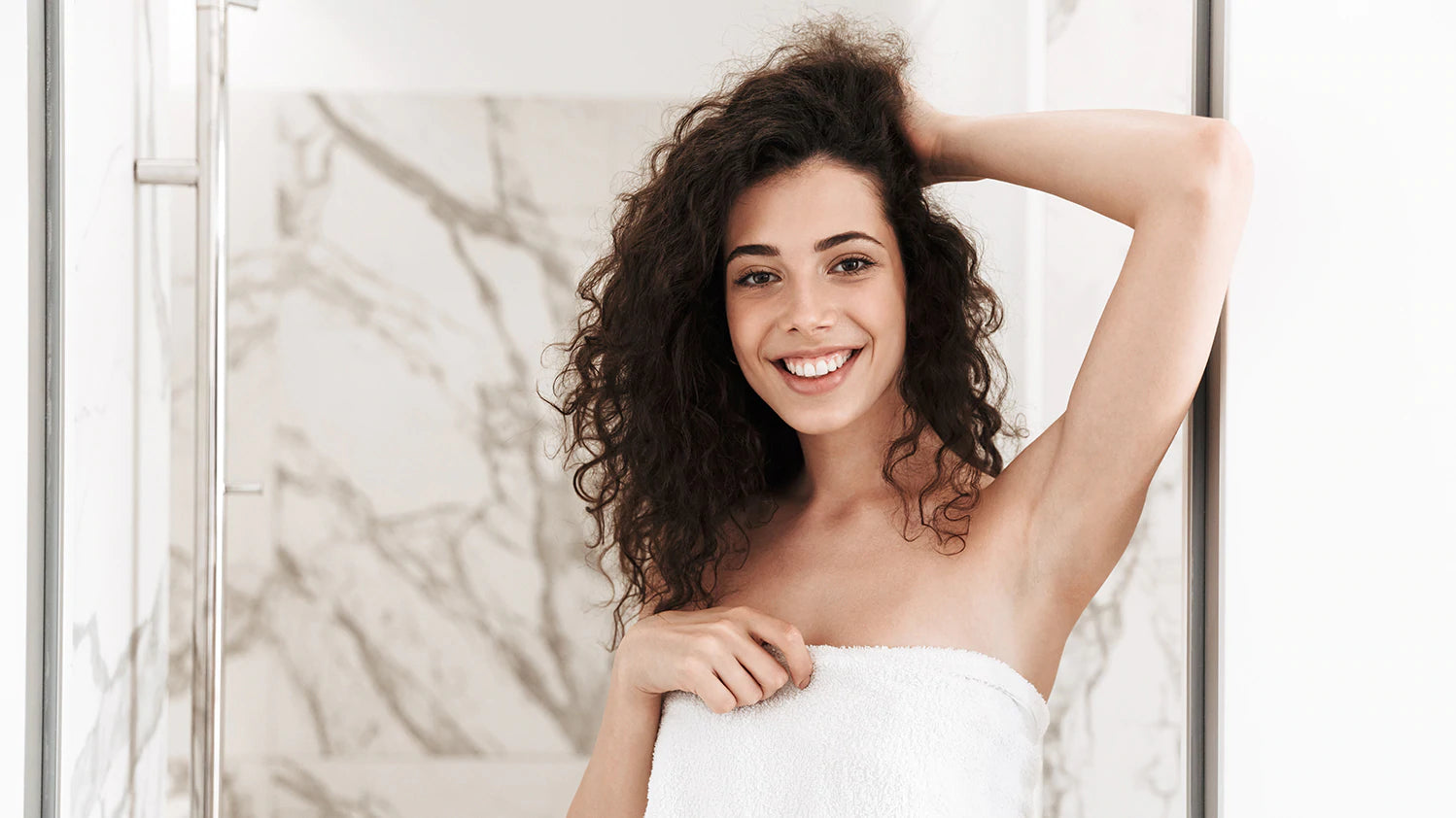 Oils provide many benefits to the hair, such as preventing breakage, locking in moisture and softening the hair. Oils not only improve the health of your hair but can enhance shine for more vibrant curls. There are several ways to use this essential product in your routine, and many hair oils are multi-purpose, making them the perfect addition to have in your arsenal.
4 ways to use hair oils in your routine
Oils can be used at the beginning of your wash day routine as a pre-shampoo treatment, as a finisher after your wash day routine, and as a nighttime scalp treatment.
How to Pre-Poo with hair Oil
Using oils as a pre-shampoo or "pre-poo" treatment helps reduce moisture loss and prevent breakage when shampooing. This is particularly beneficial for dry or high porosity hair that tends to lose moisture very quickly. The oil coats the hair's cuticle, filling in the gaps and preventing further damage. Rich oils or butters, like Curlsmith Intense Treatment Serum, are great when used as pre-poo treatments. Since you will wash them out afterwards, you don't need to worry about them being heavy or creating build-up, and you can reap their benefits even if you have a finer hair type.
Divide dry hair into sections.

Apply a small amount of oil to your palms and smooth over the hair. Avoid saturating the hair.

Gently separate knots and detangle with your fingers.

Use a brush to gently detangle if needed.

Continue working one section at a time.

Let the hair oil sit for at least 5 minutes to soak in.

Shampoo, condition, and style as usual.
How to Use Hair Oil During your Styling Routine
It's important to understand that oils do not hydrate, so they cannot fix dry hair alone. Oils are great at sealing and locking in moisture, but you need to use water and/or a leave-in conditioner or curl cream beforehand to hydrate the hair. Styling creams provide moisture, encourage curls and create clumps.
Hair oils can also be applied on wet hair, as part of your styling technique. There are different methods to apply them, depending on the sequence in which you layer oils and moisturisers within your routine. The LOC method layers liquid, oil and then cream, while LCO method layers liquid, cream and finally oil. The goal of these methods is to trap moisture in so your curls do not dry out in between washes. Coarse hair textures or very dry hair benefits most from both methods. Many people with coily hair or type 4 hair also find these methods incredibly beneficial.
There are different types of hair oils, each with different benefits, so you need to think about which method you want to use to choose the best hair oil for your needs.
LOC Method
The LOC method is great particularly for medium porosity or high porosity hair. Adding an oil right after the liquid step will help retain moisture, which is something these hair types struggle with.
Start with clean, wet hair.

Apply a leave-in conditioner.

Smooth in a small amount of penetrating oil.

Apply a curl cream and style as desired.

Diffuse or air dry.
LCO Method
The LCO method may be a better option for low porosity hair. Adding the hair oil at the end will allow the cream to penetrate better, reducing the risk of weighing down the hair.
Start with clean, wet hair.

Apply a leave-in conditioner.

Apply a curl cream and style as desired.

Smooth in a small amount of sealing oil.

Diffuse or air dry.
How to Finish your Style with Hair Oil
Using hair oil in the last step of your styling routine will help with moisture retention by sealing the hair's cuticle and making it glossy. Sealing oils can slow the loss of moisture from your hair throughout the week in between washes. Finishing your style with an oil can also help break up the crunchy gel cast resulting in soft, fluffy curls with shine. In this occasion, using a lightweight oil like Curlsmith Bonding Oil is ideal, as it will boost your hair shine without weighing it down.
After styling your hair, wait until it's 100% dry.

Apply a small amount of oil to your palms and rub together.

Smooth over the hair. Use the praying hands method if desired.

Gently scrunch ends.

Shake out the roots if desired for volume.
How to Use Oil at Night for Hair Growth
Massaging your scalp every night with oil has been known to have follicle-stimulating and hair growth properties if done consistently. Many people add it to their routine every night to deeply nourish the follicles while sleeping, which is when they are most receptive.
Apply a small amount of oil to your fingertips and rub them together. Do not use too much!

Massage the scalp from underneath the hair.

Flip the hair upside down and massage the scalp for a boost of volume and to increase blood flow.

Repeat nightly.
However, newer research is starting to question the practice of oiling your scalp. Oils feed the bacteria that lives on the skin's surface, so it could lead to a series of conditions including itchy and flaky scalp.
How to identify the best oil for your hair type
Overall, oils have many benefits for naturally curly hair and they are multi-purpose. You can use them at different times in your routine depending on which results you are after. All hair types can benefit from their use, but you may want to choose a different type of oil depending on your specific needs. If you're still unsure of what's best for you, check out this regime builder quiz!