Wash Day With Our Best Sellers Kit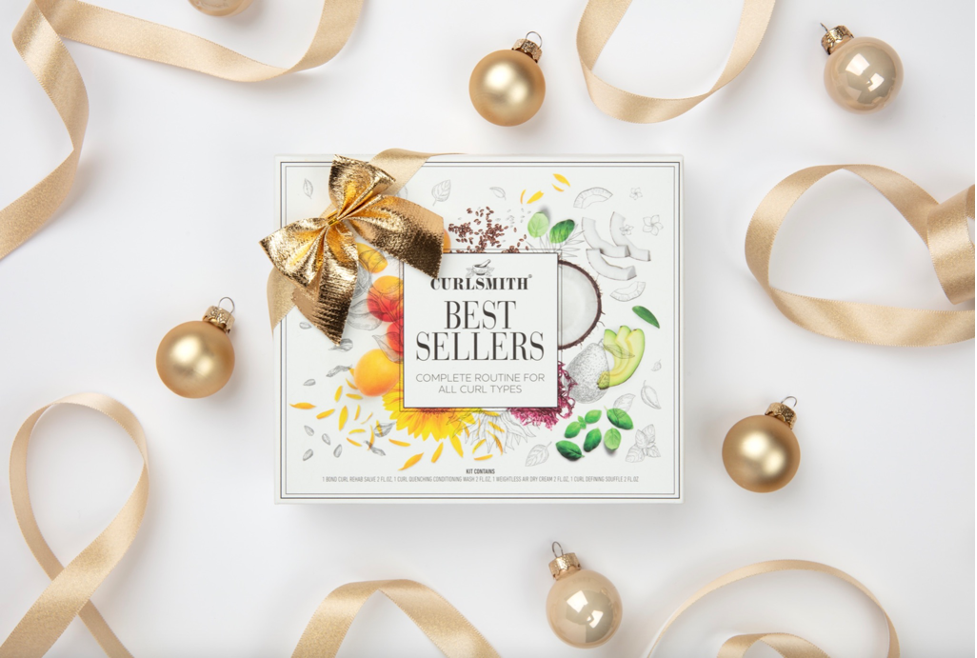 It's a great time of year to shine some light on our Curlsmith Best Sellers kit. No need to rack your brains on what to gift your curl friends and family. We have the perfect selection to make those curls pop every wash day. The best part is that every product is suitable for all curls types and textures, which takes the guesswork out of what products will work for who.
The kit includes our best-selling products to support our four-step method with an extra fifth step, a treat you only need to use some wash days. So, you know that it suits every curl type and that the products support a complete wash day routine. It's about time we find out exactly what products are included and how they work.
Bond Curl Rehab Salve
First, we have our Bond Curl Rehab Salve, an intense treatment. It's unique triple active bond complex targets and fortifies all three hair bonds to strengthen from the inside out. This treatment isn't needed every wash day; your hair's porosity will determine the frequency of use. We advise that those with low porosity use every 4-5 washes for 15 minutes, medium porosity every 3-4 washes for 20 minutes, and those with high porosity; every 2-3 washes for 30 minutes. 
So what exactly makes this product so unique? Here are some key ingredients that support the triple active bond complex.
Key Ingredients;
Chia proteins; fight against damage to the hair's keratin structure.

Sweet Almond oil to seal nourishment into the hair shaft.

Blend of nutrient-rich superfoods such as Prickly Pear, Guava, Kale, Shitake Mushroom, Blackcurrant, and Pumpkin Seeds.
Now that you know this is a must-have product, we can dive into how to use it;
Wet your hair (no need to shampoo prior) thoroughly and apply the bond curl generously to ensure that you cover all your strands. 

Detangle with the tool of your choice and allow the product to sit for 15- 30 minutes, depending on your porosity. 

Rinse and then follow with our Curl Quenching Conditioning Wash.
Curl Quenching Conditioning Wash
Our Curl Quenching Conditioning Co-Wash is a 2-in-1 shampoo and conditioner that gently cleanses the hair without stripping its natural oils. It's an essential product for those that like to cleanse frequently. Our co-wash is suitable for all curls types and textures but especially beneficial for those with medium to coarse hair. 
This bestseller features a blend of ingredients to nourish and moisturise the hair. A few of the staple ingredients include;
Resurrection flower, a desert plant that survives up to 3 years without water, known for its moisture retention properties. 

Andiroba, an indigenous plant of the rainforest known for its nourishing properties. 

Aloe, sage, rosemary, pepper, and basil extracts, known for their antioxidant properties. 
The list could go on, but it's about time you knew how to use our co-wash.
How To Use;
Apply a generous amount of product to your roots and massage. 

Work more product to your lengths and ends and detangle with a wide tooth comb or brush. 

Rinse thoroughly. 
Following with a conditioner is optional after co-washing. In this case, we will focus on moisturising your locks with our Weightless Air Dry cream.
Weightless Air Dry Cream
Our Weightless Air Dry Cream is a leave-in conditioner designed to hydrate, moisturise and enhance your curls without weighing them down. The lightweight, silky texture coats your strands and primes the hair in preparation for the styler. Some may think using a leave-in conditioner is optional; however, it is a crucial step in your wash day routine as it impacts your end result. 
Our best-selling leave-in conditioner features key ingredients to deliver moisture and hydration, such as;
Babassu, Jojoba, and Castor Oil, to seal moisture into the hair shaft and smooth the cuticles. 

Hyaluronic Acid, a miracle ingredient in skincare; just one gram of it can hold up to 6 liters of water, making it perfect for delivering moisture without weighing the hair down.

Murmuru and Shea Butter for ultimate moisture
So, how do you apply these juicy ingredients to your tresses? 
Curl Defining Souffle
Our Curl Defining Souffle is the definition of an all-around styler. It combines the benefits of a gel and moisturising styling cream into one product. The jello-like texture glides through the strands easily, making the application effortless.  
Some key ingredients that make this product unique include;
Irish Moss, a styling agent that provides hold and definition 

Babassu Oil to moisturise and add shine 

Flax Seed extract to help support hair elasticity 

Shea, Avocado, and Sunflower oil for moisture 
Let's not forget our two staple ingredients that feature throughout the entire moisture recipe; 
Resurrection flower and Andiroba for ultimate nourishment and moisture.
To complete your wash day routine, simply follow the easy steps;
Apply the souffle to each section of the hair working it through with the raking hand method for even distribution 

Use the styling technique of your choice

Air dry or diffuse 
The Best From The Best
There you have it, a complete wash day all in one kit, from start to finish; it couldn't get any easier. It's the perfect way to try the best from the best. Whether you keep it for yourself or purchase a few to gift, you can't go wrong whatever your curl type. Once you fall in love with our products (which you will), try bumping up to our Jumbo sizes to make a saving at the checkout!