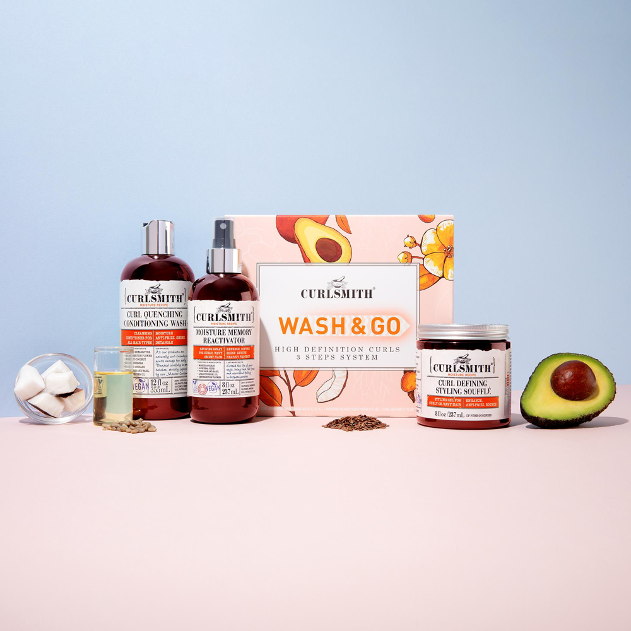 When you have curly hair, your wash day is typically longer than those with straight hair. Generally, the tighter or thicker the hair, the longer your routine can be. A common factor that extends your wash day beyond detangling and smoothing products through the hair is styling and manipulating your curls using techniques such as twisting, braiding, or even finger coiling. For some of our curl friends, the term wash day is literal. So how can this process be shortened? The simple resolution is a wash-and-go that involves cleansing, conditioning, applying your styler, and leaving your hair to dry naturally. Eliminating the time taken to manipulate your curls makes a wash-and-go so quick and easy.
However, it can all go wrong if you don't have the right products to assist with the process. This is where the Wash and Go kit comes in; Curlsmith has creatively selected three products that suit all curl types to assist with the perfect wash and go, which is ideal for those that want to cut down their time. 
Before you all rush off to add this to your basket, let us learn more about the amazing products included in the kit.
What is in the Wash and Go kit?
The wash and go kit consists of three full-sized products;
Curl Quenching Conditioning Co-Wash
A 2-in-1 gentle cleanser with a conditioning base and a low amount of cleansing agent. It is suitable for regular cleansing without the risk of stripping the natural oils away. Suitable for all hair types but especially beneficial for those with medium to coarse thickness.
Moisture Memory Reactivator
A light leave-in conditioner that also functions as a curl refresher. This multi-use product is suitable for wet or dry hair and works well on all curl types, porosities, and textures, particularly fine hair. 
Curl Defining Styling Souffle
A unique styler that provides moisture, definition, and hold. It's gel-o-like consistency provides you with the benefits of styling cream and gel in one. So great for those that want the best of both worlds. 
Is the kit suitable for a particular hair type?
The Wash and Go Kit is suitable for all; whether you have a wave, curl or coil, the combination of products delivers amazing results every time. Best of all, they are from the moisture recipe range, which is great news for curly hair as all know that moisture is vital. 
Why is moisture vital for curly hair?
When it comes to curly hair, the natural oils struggle to travel down the hair shaft due to the kinks in the hair. Therefore the strands do not benefit from receiving moisture. As a result, all curlies must add moisture to their hair, which can be achieved with the Wash and Go kit. 
Can I use the co-wash every wash day?
As the co-wash only has a low amount of cleansing agent, we advise that this is not used to replace shampoo entirely. Alternate with our Essential Moisture Shampoo and Conditioner, and every 4-5 washes and clarify with our Wash and Scrub for a deep cleanse and healthy scalp.
What are the key ingredients?
The key ingredients across the three products are; 
Resurrection flower
Belongs to the dessert and can impressively survive for up to 3 months without water. The flower is known for its retention property, so you can only imagine the moisturising benefits provided to your curls!
Andiroba
An indigenous plant of the Amazon forest, is known for its nourishing properties.
Aloe sage, rosemary, pepper, and basil extracts 
All known for their antioxidant properties.
Is it compulsory to use all three products?
Using all three products isn't compulsory; however, to achieve the best results from a wash-and-go it is advisable. Don't forget to use the Moisture Memory Reactivator in between wash days to refresh and keep your curls poppin.
Can I purchase the products separately?
Yes, you can make individual purchases, although purchasing the kit means a saving on your overall spending.
Is a wash-and-go suitable for everyone?
A wash-and-go is suitable for all curl types and is the quickest method to choose on wash day. Although it's important to note that those with tighter curl patterns will experience shrinkage when doing a wash and go, so they may opt for techniques to elongate their curl. Whatever method you choose, the products from the wash-and-go kit will be sure to assist.
Wash & Go with Curlsmith
So there you have it, you now know everything there is to know about a wash and go and the perfect products to assist. Best of all, our products are vegan-friendly, curly girl friendly, and don't get tested on animals. If you want to know what other amazing products would suit your hair, take our curl quiz, which will provide personalised recommendations to make your curls flourish.