Best Tips for Caring for Curly Hair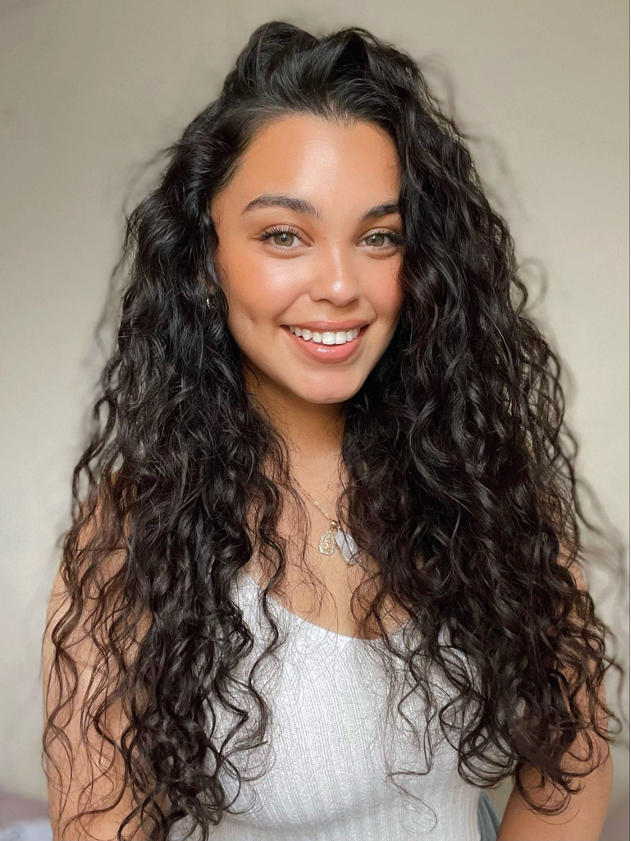 The best curly hair tips can help you find solutions to caring for your hair type. Curly hair is beautiful, but it does need to be cared for in the right way. From washing, to caring for your scalp, to maintaining your natural texture - our guide has all the best tips for caring for curly hair.  
Table of Contents:
6 Curly Hair Tips: Getting Started

Tips for Washing Curly Hair

Curly Hair Tips for Perfect Styling

5 Tips for Caring for Curly Hair

6 Top Curly Hair Tips: What to Avoid
6 Curly Hair Tips: Getting Started 
Curly hair needs proper care in order to look its best, and help you feel your best. Some of the essentials include how often you wash it, which curly hair products you reach for, and how you style it between washes. To begin though, you need to identify how your hair looks, retains moisture, its texture, and how dense it is, to know how to best use our curly hair tips.
Some essential curly hair tips are:
These hair care tips above apply to all types. If you need help identifying yours, you can find our curl quiz to help. Once you have identified that you have curly, or type 3 hair, you can follow the rest of our tips for curly hair. 
Tips for Washing Curly Hair 
When it comes to your curly hair routine - washing correctly is an important step, so there are some curly hair tips to keep in mind. From how often you should wash your hair, to what products you use. 
How Often to Wash
Our top tip for washing curly hair is to only wash it 2-3 times a week. 
If you don't wash your hair often enough, sebum and product residue can accumulate, which leaves your hair feeling dirty and suffocates your hair's follicles. This can cause you to have an itchy scalp, and can even lead to hair loss.
A tip for curly hair is to not wash too often either. If you wash too frequently, you risk stripping the natural oils your tresses produce, which can leave you with hair that feels dry. 
Another tip for washing curly hair is that it depends on your curl type. Those with coily hair may wish to wash just once a week because coils tend to be drier than curls. Those with wavy hair may find their hair gets oily quicker, and so should consider washing around 3-4 times per week.
Products to Wash Your Hair 
When washing curly hair you want to use gentle products that won't strip the hair of its natural oils. 
Shampoos - Shampoos contain cleaning ingredients which clean any dirt from your hair and remove any product build-up on the scalp. 
Co-Washes - Co-washing your hair throughout the week can help gently cleanse the curls while keeping them moisturised. These products contain a smaller concentration of cleansing ingredients, which helps to clean your hair while maintaining its natural hydration.
Conditioners - Conditioners for curly hair are essential. Curly hair can be naturally dry, and so using a conditioner after shampoo helps to restore moisture to your locks. You should apply conditioner in the shower to evenly coat your hair. Once you get out, leave-in conditioners help to add even more hydration and moisture, and prepare the hair for styling. 
Curly Hair Tips for Perfect Styling 
Another tip for curly hair is how to style your tresses to transform your locks with a style you love. Styling products are essential to achieving the defined, bouncy curls of your dreams. Stylers can help keep your curls exactly where you want them, as well as offering frizz control. 
Types of Styler Holds
One of our top tips for styling curly hair is to know the different types of holds that your products offer. The best stylers for curly hair have different consistencies and can offer a varying level of hold. This determines how long your hair will stay in your chosen style, and how defined your curl pattern will be. 
Our stylers are ranked from 1-10 in terms of how strong a hold they offer. From soft hold (1) to strong hold (10). Top tip: the stronger the hold, the stronger the cast created, and the more frizz control it will provide.
Strong hold

 - Great to make your curls defined for longer, such as our 

long lasting hold styling duo bundle

. Strong hold products leave a slight crunch to your hair, called a "cast". Top curly hair tip: you can 

break the gel cast

 by scrunching your curls with a hair oil once your hair has dried.

Medium hold

 - These stylers will produce a light cast to set your curls, and a flexible level of hold, without weighing down your curls. 

Low hold

  - If you don't like the idea of a stronger hold, then opt for a light hold styler like our 

Hold Me Softly Style Balm

.
Types of Stylers
At Curlsmith, our styling products have different formulas - from hydrating hair products to hair products for creating volume. Another of our top tips for curly hair is to choose your styling product based on your hair goals:  
Cream

 - Creams provide a softer hold, and enhance curls for a natural style.

Jelly

 - Jellies are water-based formulas with a light/medium hold with a light cast.

Foam

 - Foams provide volume and leave you with weightless, big curls.
Souffle

 

-

 

Our souffle provides a buildable hold with a flexible cast.
Gel

 - Gels provide a stronger hold, with definition and a long-lasting style.
Application Techniques
Curly hair tips extend to the application of your chosen styler too. Here are techniques to apply your styling products to your own tresses: 
Shingling

 - Take small sections or clumps of hair and smooth the product along to the very ends of the hair. 

Pulsing

 - Gather a section of hair in your hands, from the ends upwards towards the scalp, then squeeze lightly. 

Raking

 - Rake the product through your hair, using your fingers like a comb to allow for even distribution.

Praying Hands

 - Sandwich sections of your hair between flat hands to apply an even coat of product.

Finger Curling

 - Wrap a curl or small section of hair around your finger and gently pull down.
5 Tips for Caring for Curly Hair 
Washing and styling aren't the only things that matter. Hair care is so important for curly tresses. Here are some of the tips for caring for your curls:
6 Top Curly Hair Tips: What to Avoid
Now you know a wide range of the best tips for curly hair, you can apply them to your curly hair routine and achieve the tresses of your dreams. With that though, here are some top curly hair tips for what not to do: 
Washing too often

 - This can leave you with dry, brittle hair that's stripped of its natural oils.

Not washing enough

 - This allows product to build up on your scalp, which can lead to 

flaky hair

. 

Parabens, sulfates, silicones

 - All of our products are free from these ingredients which can be too intense for curls and dehydrate the hair. 

Brushing your curls when your hair is dry

 - This can damage your hair's cuticles and cause your hair to become frizzy and lose its beautiful natural texture. Top tip: only brush when hair is wet and coated in conditioner.

Applying styling products on dry hair

 - Applying stylers on wet hair helps your curls stay smoother and enhances shine. Top curly hair tip: always keep a water mist on hand to prevent your hair from drying whilst styling. 

Not protecting your hair while you sleep

 

-

 

This can distort your curls pattern and leave you with 

frizzy hair

.  
Why Choose Curlsmith?
At Curlsmith, we're dedicated to providing nourishing hair products for waves, curls, and coils, with a commitment to sustainability. Our products are all vegan and cruelty-free, from our scalp treatments to our products to repair damaged hair.