How To Moisturise Curly Hair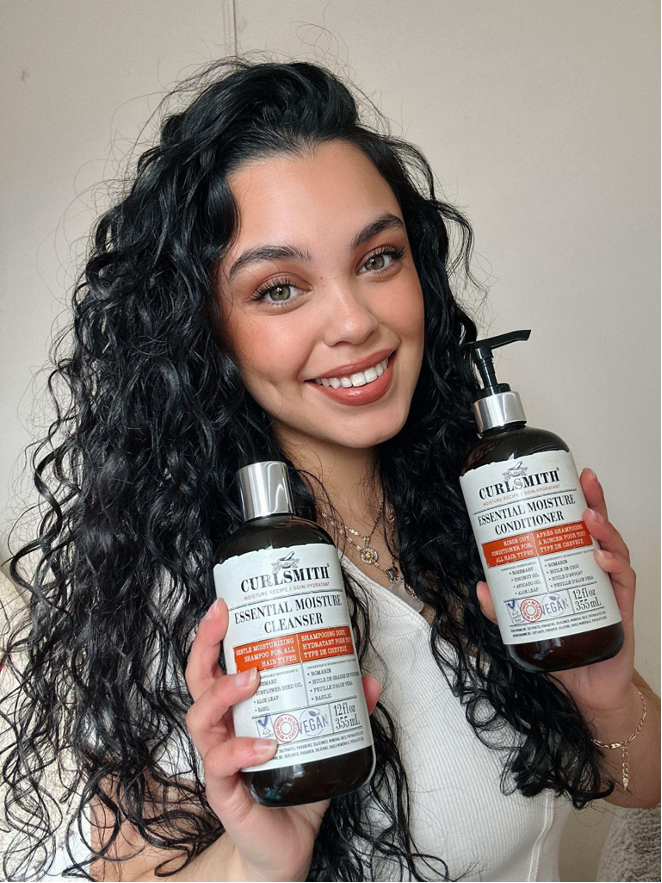 How to moisturise curly hair is a common query in the community, because it is inherently dry. The consequences of dry curls can lead to several issues resulting in a curly crisis. We all deserve beautiful hair, therefore, keeping your tresses moisturised with a good hair care routine is essential. 
Table of Contents: 
Why is it Important to Add and Lock in Moisture?

How to Identify Curls that Require Moisture

6 Tips for Adding Moisture to your Hair

Step by Step: How to Moisturise Hair with Curlsmith

Moisture Dos & Don'ts

Avoiding Moisture Overload

The Role of Porosity
Why is it Important to Add and Lock in Moisture?
Curly hair is inherently dry; therefore, adding moisture to your tresses is essential. Otherwise, your curls could become dry and brittle and lead to breakage. Furthermore, locking that moisture is just as important as adding it in the first place, or your hair will become dry again. Benefits to adding moisture to your curls are:
Soft curls

Shiny hair

Frizz free tresses

Great elasticity resulting in bouncy curls 
All of the benefits listed above are signs that your tresses are moisturised and healthy, meaning that your curls should be poppin. Now that you know the benefits of moisture let's take a closer look at how to identify whether or not your locks are in need in the first place.
How to Identify Curls that Require Moisture
Everyone will experience dry hair at some point, even if you are a curl expert. It could result from a change in your hormones, chemical services such as color, or the weather. You can quickly identify if your curls require moisture as your hair will appear:
Dry

Brittle

Rough

Frizzy

Prone to breakage

Dull
Furthermore, you may find that your curls won't form to the best of their ability. However, it's important to note if your tresses are breaking or snapping easily, as this will mean that your hair is damaged and needs repairing with products containing protein.
Moisturising Ingredients to Look Out For 
Looking at the ingredients list on the back of a product can be overwhelming to say the least. To make things easier listed below are juicy ingredients that add moisture and nourishment without weighing down your locks.
-   Aloe 
-   Avocado Oil
-   Sunflower Oil
-   Jojoba Oil
-   Murumuru Butter
-   Apricot Kernel Oil
The list could go on and on but we need to get to the important part of how to add moisture to your hair. 
How to Add Moisture: 6 Curly Hair Tips 
Adding and retaining moisture requires routine, and the longer you keep up with your routine, the more your tresses will get used to retaining that moisture. Top tips for adding moisture are as follows; 
Use moisture-rich curl-loving products. 

Have a 

curly haircare routine

 so your tresses consistently receive the goodness needed to remain hydrated, moisturised and healthy

Deep condition weekly

 to allow the conditioner to penetrate the hair shaft and provide an intense moisture boost

Always use a 

leave-in conditioner

 to detangle, moisturise and prime your hair ready for the styler 

When applying your products, section your hair to ensure even distribution.

Use a water mist and refresher spray in between washes to keep your curls hydrated
Hopefully, you are already doing some of the above, but let's look at a simple breakdown to make things easy.
Step by Step: How to Moisturise Hair with Curlsmith
Finding a routine to care for your hair may seem daunting, but Curlsmith has you covered when adding moisture to your tresses.
Step 1: Shampoo your hair with one of our sulfate-free shampoos to remove dirt and build-up. For ultimate moisture, select our Essential Moisture Shampoo. 
Step 2: Condition with an everyday conditioner such as our Essential Moisture conditioner, and weekly, use a deep conditioning treatment like our Double Cream Deep Quencher.
Step 3: Apply a leave-in conditioner to add moisture to the hair and prime ready for the styler, such as our Moisture Memory Reactivator.
Step 4: Apply a styler of choice; you will find the most moisture in cream instead of a gel. However, our Curl Defining Souffle has the benefits of a gel and cream and is a popular choice as it's suitable for all curls.
Step 5: Apply oil once the hair is 100% dry, like our Bonding Oil for all hair types. Shine Oil is fragrance-free and dermatologically tested, so great for sensitivities. Alternatively, for those with coarse hair, select our Intense Treatment Serum. 
Top tip: Our Moisture Memory Reactivator also functions as a refresher spray to keep your curls hydrated and moisturised between washes.
Moisture Dos & Don'ts
As with anything, there are certain things that you want to ensure you are doing and things that you need to avoid. 
Dos:
Use a curl-loving brand like Curlsmith.

Deep condition once a week for an intense moisture boost

Learn about the characteristics of hair to get the best results when adding moisture.

Clarify every 4-5 washes to 

remove build-up

.

Protect your hair at night with a 

silk scarf 

or 

satin pillowcase

.
Don'ts:
Shampoo your hair excessively. 

Use products that contain harsh ingredients, such as silicone, sulfate, parabens, phthalates, mineral oils, or drying alcohols

Rush your wash day   

Neglect your hair between wash days; 

always refresh your curls

 and add moisture. 
Avoiding Moisture overload 
If your hair care routine consists of products purely concentrating on moisture every wash day, it could lead to moisture overload. Signs of this include:  
Limp, mushy curls.

You will experience a soft fluffy type of frizz.

Your hair won't hold a curl as it is too soft.  

If you stretch your hair, it will keep on stretching and not bounce back.
Avoid moisture overload by periodically adding protein to your routine. Simply swapping your conditioner for one that contains protein, such as our Multi-tasking Conditioner, will help to retain that moisture protein balance.
The Role Porosity
With all the advice on how to moisturise your curly tresses, it should be a walk in the park. However, there are a few things to consider, such as porosity. This refers to how your hair accepts and retains moisture and it is categorised into three types.
Low porosity: The cuticles are closed, which means that low porosity hair struggles to accept moisture, and products tend to sit on the cuticle and build up rather than penetrate the cuticle. Using lightweight products moisturising and regularly clarifying to remove build-up benefits helps low-porosity hair.
Medium Porosity: Medium porosity is the easiest to care for, as the cuticles aren't too open or closed. The hair accepts moisture easily and does not release it quickly.
High Porosity: The cuticles are wide open, often due to heat damage or chemical processing. High porosity hair accepts moisture easily but also releases it quite quickly. Repairing the hair with a product like our Bond Curl will strengthen the hair and encourage moisture retention.
Stay Moisturised with Curlsmith
You have probably realised by now that keeping your curls moisturised is a big part of having healthy, bouncy curls. With Curlsmith, you have the guarantee that you will be feeding your hair nourishing ingredients to make those curls pop. In addition, our products are cruelty-free and vegan-friendly. If you want assistance selecting products, take our 
curl quiz
 to receive personalised recommendations today!