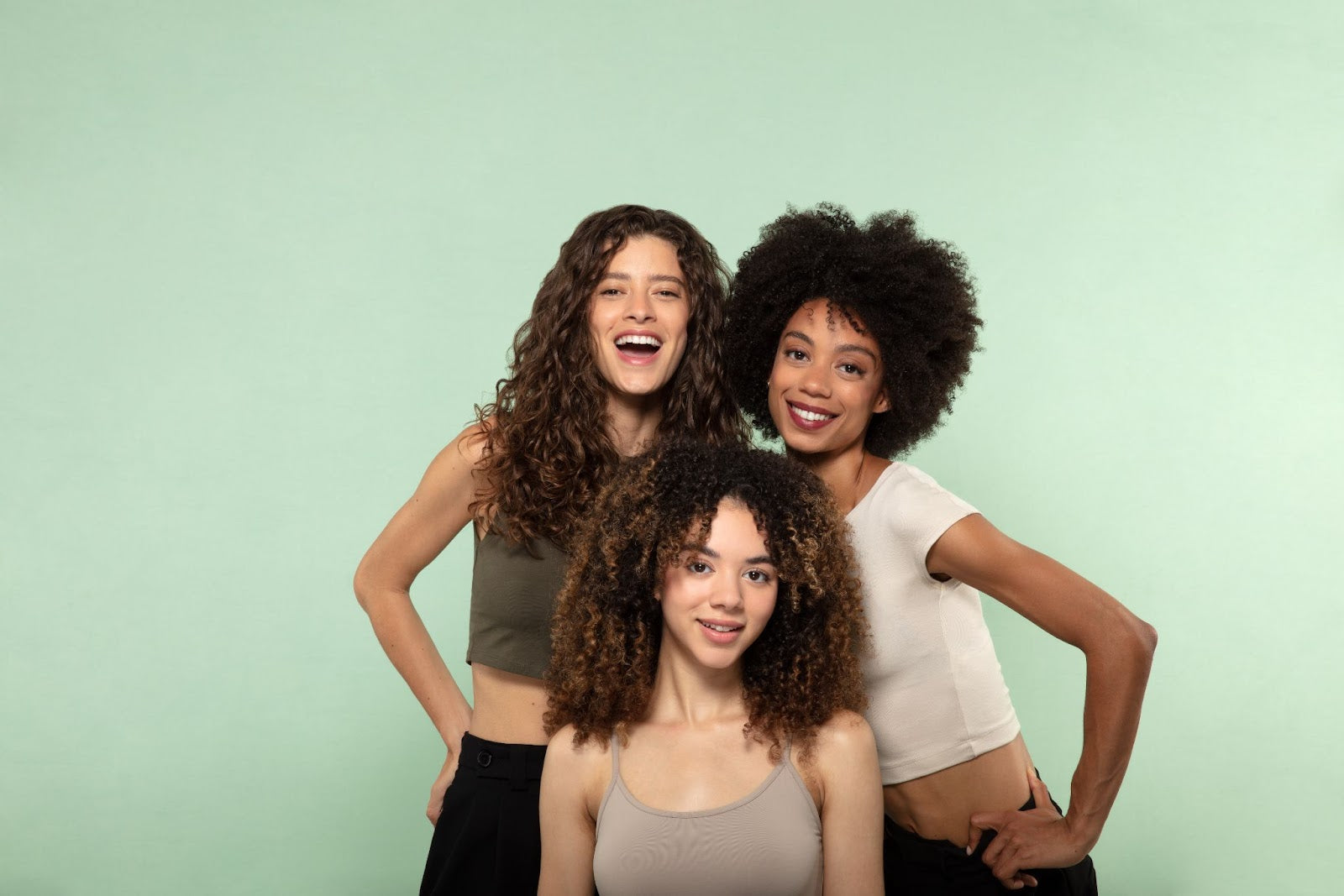 Styling curly hair can completely transform your look. Whether creating a special do for an upcoming event, getting your hair out of your face in a fashionable way, or even just trying something new, up-styling curly hair can be a beautiful way to enhance your look. 
My Curly Hair BREAKS and TANGLES EASILY
How to Establish a Routine For Styling Curly Hair
Best Products For Style-Enhancing Products
Light Leave-ins, Sprays or Balm
Great Ways to Style Curly Hair
What to Avoid When Styling Your Curls
Protecting Curly Hair At Night
The Importance of Scalp Health for Styling Curly Hair
Curly hair, however, can pose challenges in achieving the best results in up styling. Halo frizz, flyaways, dry frizzy-looking ends, and even humidity can pose issues, but all is not lost! Certain specialist products can help in creating the specific look that you are envisaging, ensuring that the results are successful and long-lasting and giving the look of your dreams.
Finding Your Curly Hairstyle
The easiest way to style curly hair is to embrace your curls whilst doing it! Styling your curly hair up without much extra work can be achievable in many styles, especially with the aid of styling products for curly hair. Styles, include;
Braids:

 Side braids on long hair or even pigtails for shorter hair can look beautiful! French braids

 can be a very sleek curly hairstyle

 but may be trickier with layered hair.

Space buns:

 Space buns are a fun way to embrace your curls, pulling them up into buns on either side of your head.

Messy high or low buns:

 

High or low buns can look beautiful with curly hair. You could even use a special doughnut (or a sock if you don't have a doughnut to hand!) to make that bun fuller in lower-density hair.

Pineapples:

 

The ultimate in curly styling – simple yet chic, the pineapple piles your curls on top of your head, allowing them to tumble down from the hair tie in the most striking way.

Chignons or twists:

 

Very achievable with curly hair, chignons or simply twisting your hair in on itself at the back of your head can create a beautiful romantic look that can even be enhanced by adding some flowers or a clip.
Sleeker styles, such as a slicked-back bun or a smooth ponytail, may need a little extra work to combat frizz and ensure a smoother look. Further to this, blow-drying curls straight or using heatless options for curls can prove tricky to maintain, especially in more humid or hotter weather. A good wash day base will be needed to set up these styles successfully. 
Overnight waving or curling options require different approaches based upon the tightness of your curl. As tighter curl types will require extensive stretching of the curl to create overnight waves, for example, sectioning the hair into smaller parts and applying rods or twists to produce a slightly looser curl may give a better overall result. 
Solutions to Styling Issues
Curly hair can present an array of issues when styling. Let's tackle some of them together:
My Curly Hair is FRIZZY
Halo frizz or frizz throughout the hair can cause a style to look less put together. If you struggle with frizz, ensure you are addressing the root cause of frizzy hair to minimise it. Frizz can be caused by: 
My Curly air is TOO SOFT
Some curly hair is naturally very soft, especially very fine hair. This can cause difficulties when styling curly hair as the hair can struggle to hold a style, dropping or falling out. Try incorporating protein-enriched products into your wash day routine to combat this, or use a product to add texture as you style, such as hairspray.
My Curly Hair is DRY and DULL
Curly hair is prone to dryness, which can make your style less glossy and healthy looking. Ensure to add enough conditioning products into your routine; condition well after shampoo, deep condition as needed, and don't skip the leave-in conditioner. Ensure to also clarify your hair regularly, as build-up can be a cause of dry hair!
My Curly Hair BREAKS and TANGLES EASILY
Tangles should be removed before styling curly hair to avoid excess breakage. Avoiding tangles starts with your wash day routine with thorough conditioning and styling products that help smooth the cuticle. 
My Curly Hair is DAMAGED
Damaged curly hair tends to be much harder to work with to create a style than healthy curly hair because it tends to suffer from many of the aforementioned issues. Damaged hair needs protection; minimise the use of heat and chemicals, use bond rebuilders, such as the Curlsmith Bond Curl Rehab Salve, and protein-rich products, such as those from the Curlsmith Strength line.
How to Establish a Routine For Styling Curly Hair
Styling starts with a good curl care routine. Proper curl care can minimize frizz, help maintain a style even in the highest humidity and ensure that a style looks tip-top without becoming dry and losing its shine. 
An effective routine should consist of the following factors:
Removal of build-up: A stronger, clarifying shampoo, such as the Curlsmith Wash & Scrub Detox Shampoo, should always be included in your routine to ensure the hair is kept build-up free. Build-up causes dryness, dullness and can also weigh down a style, causing it to drop.
Effective conditioning: Effective conditioning is essential to combat dryness in curly hair. Whether you need a strengthening, light conditioner, such as the Curlsmith Multi-Tasking Conditioner, or a richer deep conditioner that adds extra moisture, such as the Curlsmith Double Cream Deep Quencher, well-hydrated hair suffers from less frizz and flyaways and is overall softer and easier to manipulate into a style. 
Prepping your curls: Before adding stylers to your curls, always prep them with a leave-in conditioner, cream, such as the Curlsmith Weightless Air Dry Cream, or leave-in spray, such as the Moisture Memory Reactivator. These products provide ongoing nourishment and frizz control to the hair, ensuring that your curls remain moisturised even on day 2 or 3 of your style.
Any kind of heat styling on your curls post-wash should be preceded with a heat protectant such as the Miracle Shield to avoid damaging your curls!
Style your curls: When I say "style" in this instance, I am referring to the wash day styling that comes before we jump into updos, blowouts, and the like. 
Foams, such as the Curlsmith Bouncy Strength Volume Foam, can add volume, body and "grit" to the hair. These are especially useful with finer and lower-density hair and often ensure that when styling curly hair, your locks are fuller and stay in place better.
Gels, such as the Curlsmith Shine Gel, add longevity to your hair, helping to fight humidity and ensuring your curls last for days. Gels are essential for any updo to ensure that you are able to maintain your style for much longer.
Best Products For Style-Enhancing Products
Aside from your curl care routine, many products can enhance your style as you are creating it. The best Style-enhancing products include: 
Hairspray
Hairsprays are designed to be used on dry locks when styling curly hair. Hairsprays hold your curls in place, and help to lay down frizz and flyaways. Hairsprays can also support finer hair, giving "grit" and body, meaning the style is able to last for longer.
Some hairsprays can leave the hair feeling sticky or crunchy. If you want to avoid this, try the Curlsmith Flawless Finish Hairspray, which will help control your hair, without any of the yucky feeling!
Gels
Curly hair gels tend to be heavier than hairspray and as such, are best for slicking down styles and controlling frizz in styles that need to look sleek; buns and high ponytails, for example. Gel can also be used for edge control to shape any stray baby hairs.
Gels with a more jellylike consistency, such as the Curlsmith Shine Jelly or the Curlsmith Curl Defining Style Souffle, can be particularly useful for this purpose. 
Light Leave-ins, Sprays or Balm
Up-styling curly hair without causing any additional frizz in the process is very difficult. Your styling and manipulation will likely cause a little extra frizz, especially if you have to separate any curl clumps. 
A light leave-in conditioner, spray or balm can be perfect to tackle this in areas where curls are left loose and need to be redefined for less frizz or a more consistent shape.The Curlsmith Hold Me Softly Style Balm is a perfect example of a product that does just this.
Light Oils
If your hair is lacking shine once you have styled it, add it straight back in with a light oil. Curly hair oils help to smooth the surface of the hair, reflecting light better and giving that beautiful, shiny effect when styling curly hair. Oils can also help protect your hair as you continue to wear your style throughout the week. The Curlsmith Shine Oil or Bond Oils are two examples of lightweight options that will instantly elevate your look.
Great Ways to Style Curly Hair
Styles that work really well for curly hair include: 
Messy buns and ponytails:

 Create a beautiful up-style with a bun or ponytail, embracing your curls with face-framing pieces. 

Pineapples:

 

The iconic curly look of piling those beautiful curls on top of your head and then tying them in place gives a full and luscious appearance.

Faux bangs and a bun:

 

Did you hear?! Curly bangs are in! Use the ends of your hair folded over your forehead to create beautiful curly bangs and a high bun.

Space buns:

 

Great for any occasion, space buns can showcase curly hair in all its glory, creating a fun look that all will love.

Braids:

 

French, Dutch, or a simple plait; braids can elevate any curly hairstyle, giving a romantic and dreamy feel. 

Twists:

 

If you struggle with braids, why not try twisting your hair from the top of your head or temples, creating a halo, or matching twists on either side of your head?

Chignons:

 

For a more elegant updo, try a curly chignon, These give a beautifully textured effect, whilst keeping your style very refined and chic.

Fauxhawks:

 

These work particularly well for thicker hair and give an edgy, modern feel. Perfect for Summer festivals!

Half-up, half-down:

 

For those who want their hair out of their face, but still want to showcase their curls down, this is the perfect option.

Tucks:

 

Tucking the hair in on itself and then pinning it in place can achieve a simple, yet effective updo with curly hair.
You could even add an accessory to your curly style. A bandana, scarf, hair band, or clip can add a splash of colour or interest and break up your style. You could even add a hat if that's the vibe you are going for!
What to Avoid When Styling Your Curls
When styling your curls, there are several damaging practices that you may want to avoid, in order to promote your hair's health as best possible. In styling your curly hair, make sure you DON'T:
Use extreme heat

: It is perfectly possible to achieve beautifully styled curls without the use of extreme heat tools such as straighteners or curling irons. Applying high heat to curly hair can lead to damage and, in turn, extra dryness and breakage.

Skip the heat protectant:

 Some styles will require an element of heat, but this does not necessarily need to be excessive. Make sure to use a heat protectant if so, such as the Curlsmith Miracle Shield, to avoid damage.

Use too much tension:

 Tightly scraped back styles that exert excessive tension on the hair and scalp can lead to breakage and even potential hair loss over time (this is known as traction alopecia!)

Continuously wear tight hairstyles:

 

For similar reasons to the above, make sure to give your hair a break once in a while instead of constantly employing tight styles.

Overly brush your hair:

 

Over brushing the hair may cause breakage. Instead smooth the hair with a product such as the Curlsmith Flawless Finish Hairspray. Alternatively, wide tooth combs may be sufficient.

Tie your hair up wet:

 

Tying your hair up wet creates a warm, wet environment that is the perfect breeding ground for bacteria and can lead to scalp problems over time! Leaving your hair wet for too long isn't good for it either, as water causes the hair to swell.

Use rubber bands or elastics that are too small:

 Some styles may require a subtle elastic but use them carefully as they can cause friction and damage to the cuticle layer. They're also pretty difficult to remove and can cause breakage as you do so!
Protective Styling
Protective hairstyles for natural hair can be hugely beneficial in allowing your hair to take a break from the daily application of products and manipulation. Natural hair tends to be the driest hair type, given the tightness of the curl, and needs a lot of ongoing care. As such, moisturizing your hair adequately and then allowing it to rest tucked away from environmental damage can be a great option for styling curly hair.
Protective styles include: 
Braids; Box braids, cornrows, or micro braids for example

Twists; Two-strand, three-strand or flat twists for example

Bantu knots; these can be of different sizes according to preference

Finger waves; these can be part of a bigger overall protective style

Puffs and Afros; whilst these styles do leave the natural hair out, they still lift the hair, minimising friction caused by clothes, handbag straps and suchlike

Locs

Weaves and wigs
Many updos can also act as protective styling, including buns, top knots, chignons, and many others mentioned in this blog. Updos can be achieved using your natural hair or extensions, weaves and wigs.
Protecting Curly Hair At Night
While sleep protection helps protect your curls overnight, it can also help protect your style too! Reducing friction on your hairstyle can lead to less frizz and dryness, alongside ensuring that your style lasts a lot longer. 
Types of sleep protection that may work to protect your style include:
The Importance of Scalp Health for Styling Curly Hair
Scalp health is integral to healthy hair. Our scalp is skin and should be treated as such. The condition of our scalp often dictates how our hair grows and the health of our hair. 
Many things can affect the health of our scalp, including: 
Build up:

 ensure you are using a clarifying shampoo in your routine.

UV damage:

 Protect your scalp when going out in the sun by wearing a hat or scarf.

Overly tight hairstyles:

 Avoid applying too much tension to the scalp so the hair follicles do not become damaged.

Sleeping on wet hair or tying the hair up wet:

 

This can lead to both scalp issues and damage to the hair!

Chemical burns:

 

This sounds drastic but relaxers, perms, and even scalp bleach can lead to scalp damage and even potential chemical burns.
A healthy scalp inevitably equals more healthy hair. Healthy hair is more elastic, shinier, less dry, less prone to frizz and breakage, and much more able to hold its own shape. As such, it is generally easier to style than weak, damaged hair.
Conclusions
While styling curly hair may pose challenges, it is absolutely possible to create glorious updos, blowouts, and everything in between! That is the truly special thing about curly hair, its versatility! If you are struggling to embrace your curly hair fully, trust that our experts at Curlsmith will have the answers for you. With our vegan, cruelty-free products, with no nasties and a climate-neutral approach to production, we have the answer to any curly woe. Why not try out curl quiz today to start you on your curly journey?