What is my curl type: How to start your curly journey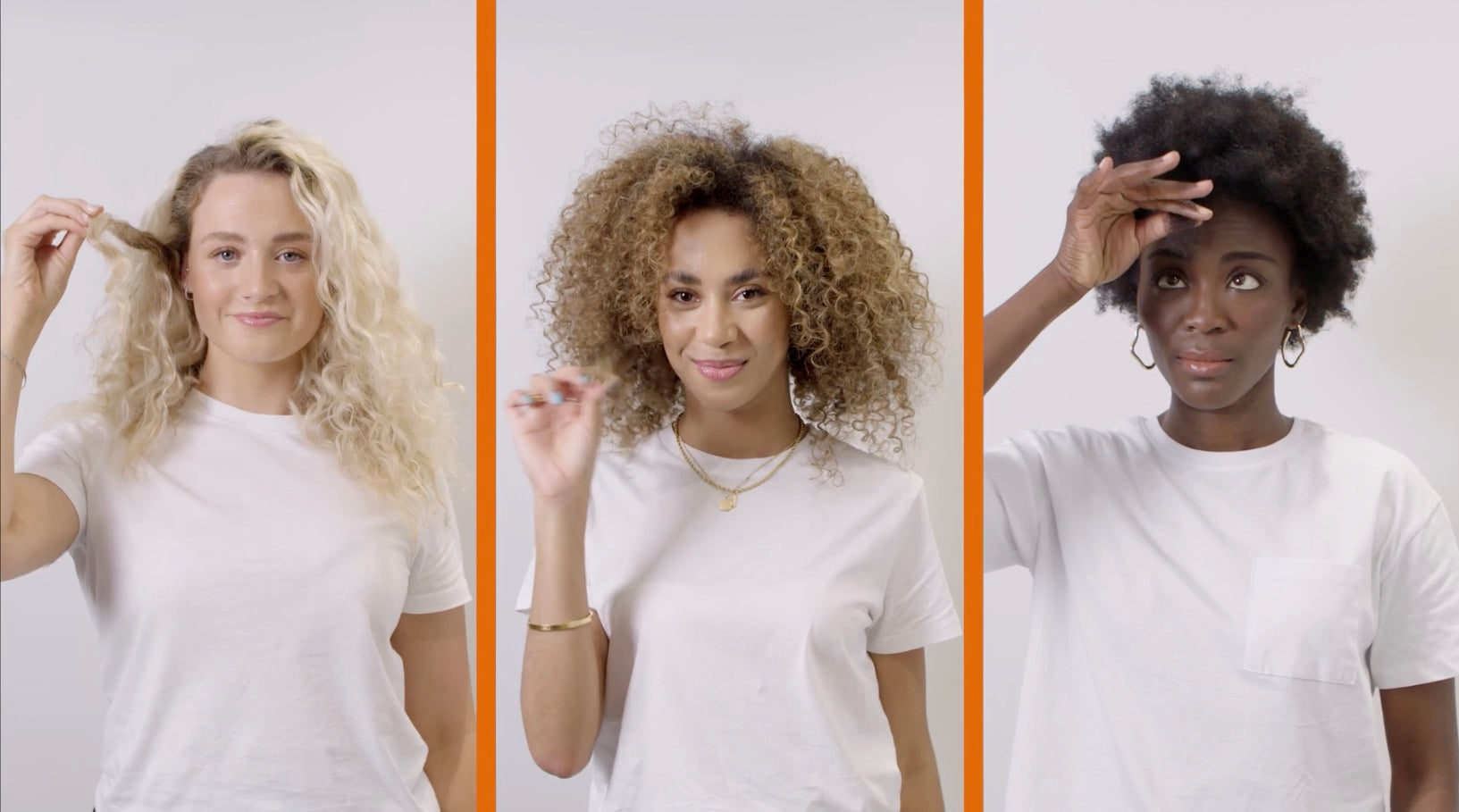 Whether you have decided to retire from your straighteners or let go of that chemical service, starting your curly journey can be challenging. It's like learning to play a musical instrument. It can be testing at the start, and you may hit a few wrong notes. But once you get your rhythm and routine, you can create a masterpiece, in this case, juicy, bouncy curls.
There are fundamental steps to embracing natural curls, starting with identifying your curl type. In addition, finding a haircare brand committed to serving the needs of all curls is vital to the success of your journey. 
Hair Type
It is important to identify your curl type using the hair typing system created to help categorise and understand various hair types. The numbers range from 1-4, one being straight, two wavy, three curly, and four coily. When referring to curly hair, that would be anywhere from 2-4. Within each group, you will find the letters a,b, or c, which refer to the diameter of the wave curl or coil. 'A' means loose, b, medium, and c tight. Let's look at the different curl types in more detail.
Wavy Hair 
Wavy hair is the loosest of the curl types and consists of an 's' shape pattern. Your hair can be made up of loose, medium, or tight waves. Let's break down the difference in the appearance of wavy hair.
2A is often straighter at the top, then forms a loose wave towards the ends; the hair has a tousled effect.
2B features more of a defined wave in comparison to 2A hair, it falls flat at the root and then starts to wave throughout the length and ends of the hair. 
2C can appear like a curl but, when closely analysed, has a tight 's' formation that starts from the root. You will often see a few loose curls mixed into this hair type. 
Curly Hair
Curly hair forms in full spiral ringlet curl; the variation between a, b, and c compares to the circumference of a pencil, sharpie pen, and jumbo marker.
3A hair consists of a large spiral curl roughly the circumference of a jumbo marker. 
3B hair is tighter than 3a and generally has the circumference of a sharpie pen
3C is the tightest curly sub-group and typically has the circumference of a pencil. 
Coily Hair 
Coily hair consists of zig-zags and corkscrews and is the driest of all hair types due to the tightness of the curl pattern. Type four hair must be handled with extra hair when detangling to avoid breakage. Type four hair appears very voluminous due to the tightness of the coil. The hair can appear dense, so many assume that the texture is coarse; however, it can range from fine to coarse. 
4A hair typically consists of coils the circumference of a crochet needle 
4B hair is where the pattern changes from coil to a zig-zag; the strands can tangle easily, so take extra care when detangling
4C can often appear frizzy with a lack of definition; however, hair has a very tight zig-zag formation when examined closely. Those with this hair type can experience up to 75% shrinkage.
After reading about the various curl types, try to identify your own. It's most likely that you will have more than one curl type. The curls around your hairline may be looser than those at the crown area. So, for example, you may be 2a/2b or 4a/4b. 
Now that we have that hair typing system covered, you are ready to discover the perfect brand to assist you on your curly journey.
Curl Friendly Products
When looking for a brand that you can rely on to keep those curls poppin, Curlsmith is an obvious choice. We do not use ingredients that are not curly girl friendly such as sulfate, paraben, drying alcohols, and silicones. With five amazing recipe ranges, you are sure to find the products to suit your needs. 
Ready Set Go
You know your curl type and are ready to purchase some hair care products so take our curl quiz to make things easy. Answer simple questions about your hair to receive personalised recommendations to support you through a successful wash day. Be sure to read our blog or watch our video on the four-step method to dive deeper into your wash day routine.