Is Coconut Oil Good for Your Hair?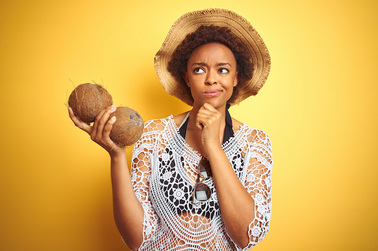 Often dubbed as a wonder ingredient, you may be questioning whether you should be using coconut oil for your hair. Coconut oil has a wealth of properties that make it incredible for lots of products, from haircare to skincare, and even cooking! Whilst we don't recommend using the same product for your hair as your favourite dish, we do think you should know just how good coconut oil is for your hair and scalp. As well as whether you should be using this ingredient for your hair type.
Table of Contents:
What is Coconut Oil & How Do I Use it for My Hair?

The Benefits of Coconut Oil for Hair

Is Coconut Oil Suitable for Every Hair Type & Porosity?

Can You Apply Coconut Oil To Curly Hair?

Using Coconut to Hydrate Dry Hair

Is Coconut Oil Good at Fixing Hair Breakage?
What is Coconut Oil & How Do I Use it for My Hair?
Coconut oil is derived from the white 'meat' and milk of the coconut plant. Depending on the temperature of its environment, coconut oil can either be a liquid or a solid. When it's above 75 degrees fahrenheit it will be a liquid, below this temperature it will present itself as a soft, creamy solid.
There are just as many ways to use it as there are reasons for coconut oil being so good for your hair. From using products that contain the oil, to using it by itself, there are countless ways you can add this to your routine. If you opt to use it in its raw state however, you need to ensure that it is coconut oil for hair and not for cooking, as the processing of these two products is slightly different and they are not interchangeable.
The Benefits of Coconut Oil for Hair
This oil can help your hair in many ways. From helping you to retain moisture, to reinforcing hair's protein, and adding shine, we can't get enough of this incredible ingredient!
Moisture: The primary reason coconut oil is good for your hair, is due to its ability to seal moisture within your locks. Coconut oil is an occlusive barrier, so once the hair is hydrated, it is the perfect partner to keep that hydration locked in. Our moisture range has the ideal ultra-hydrating products to leave hair feeling soft, and refreshed. This natural oil provides protection from many things, from water damage and the sun, to heat and chemicals. However, you may wish to protect hair further from harmful rays with sun hats and scarves on sunny days!
Protein: Coconut oil itself does not contain any proteins but it can help to strengthen the proteins already in your hair. This makes it perfect for those looking to give new life to damaged hair. When it comes to making curly hair look its best it's essential to achieve a protein moisture balance. If your hair is protein deficient you should use protein-rich products, like those in our strength range to help restore your locks!
Shine: This fantastic oil can also be used in your styling routine, from adding a quick shine boost to the hair to taming flyaways. It really is a versatile product that can be used at every step of your haircare journey. The best way to reap the rewards of this oil for your hair is to choose products that include it as an ingredient rather than using it by itself. If you have fallen victim to overuse and build up, we recommend using a clarifying shampoo, like our Pro-Biotic Scrub to reset your hair.
Is Coconut Oil Suitable for Every Hair Type & Porosity?
As an occlusive, coconut oil is fantastic at sealing in moisture that's already in the hair. However, for those with certain hair porosities, it may be an ingredient you wish to avoid and replace with something else. Whether you have curly, coily, or wavy hair, it's important to discover your porosity to find the best products and methods for you.
High porosity hair: Coconut oil is particularly good for this hair type, as high porosity hair loses moisture quickly and the oil acts as a sealant, locking hydration into the hair. This can help prevent this hair type from becoming dry. A popular haircare method is the liquid, oil, cream method. This involves nourishing the hair with intense moisture, sealing it in with an oil, and then finally smoothing the cuticle with a cream. We appreciate that the L.O.C method takes a lot of steps, that's why we've incorporated them all in our Oil-in-Cream. This gorgeous leave in conditioner is simple to apply and incorporates coconut to leave your locks feeling hydrated and soft.
Medium porosity hair: The characteristics of medium porosity hair mean moisture can enter the hair shaft relatively easily, but it is also not lost at too fast a rate. Coconut oil could be a good ingredient to use alongside the rest of your haircare routine to really get the most from your hydrating products. Why not try experimenting with using this oil and seeing how your hair reacts, after all everyone's hair is different so this really is the best way to see if it's for you!
Low porosity hair: The cuticles in low porosity hair are tightly packed together, this makes it difficult for moisture to enter the hair shaft. Due to this, pure coconut oil may not be beneficial to this porosity type. This is because whilst the oil acts as a sealant to stop hydration leaving the hair, it also works in the opposite way, preventing moisture entering. This could leave you locks in protein overload, feeling dry, brittle, and prone to breakage. If you find yourself in this situation, reset your locks with a clarifying shampoo and treat the hair with a deep conditioner or mask.
Can You Apply Coconut Oil To Curly Hair?
Curly hair is prone to suffering from dryness. This is because the scalp's natural oils struggle to move down the twists and turns of the hair shaft, and so the ends are left feeling dry. Dry hair can cause a whole host of problems, including appearing dull and being more tangled. But it can also lead to hair breakage. So providing hydration to these hair types is a must. After you have added hydration to your tresses, the final step is locking in that all important moisture, and applying coconut oil is a great way to do it. What this will do is coat the hair strands to stop the release of that nourishing hydration you have just added!
Using Coconut to Hydrate Dry Hair
Our moisture range takes full advantage of the good coconut can do for your hair. Coconut oil is blended seamlessly in our formulas to provide all the benefits without weighing the hair down. Begin cleansing with our coconut infused Curl Quenching Conditioning co-wash. The benefits of co-washing are numerous and it is a gentle way to melt away build up, whilst providing locks with moisture. Next, you will want to add a further conditioner, and our Oil-in-Cream is the perfect one for the job! It uses coconut oil to seal in the hydration your tresses have just received. When it comes to styling, everyone has their own preferences. For those looking for a soft hold balm that provides all the benefits of coconut oil, then our Hold Me Softly Style Balm is the perfect option. It will help you create soft, romantic waves. If you want a boost of volume, along with hydration and protein, we recommend our Bouncy Strength Volume Foam to return your hair to its natural luscious state.
Is Coconut Oil Good for Fixing Hair Breakage?
Dry hair is at the root of many of our hair problems. It can lead to hair breakage, dull hair, split ends and so much more. These are things none of us want to experience. But incorporating coconut oil products into your everyday routine is a simple way to tackle the dryness! Using coconut oil doesn't have to be difficult, especially when it's an ingredient in so many hair products already! From washing to styling, there's a way to integrate this oil into every step.
There are many options for preventing and repairing hair breakage. Coconut oil can help with your overall hair health, by helping to retain the hair's protein. Coconut oil is also good for stopping further hair damage, reducing friction from styling - minimising potential breakage! And whilst there is no miracle product to make your hair grow faster, less breakage leads to hair appearing fuller and longer.
About Curlsmith
We are a gourmet haircare company that creates curl-loving products. In collaboration with trichologists and curly hair stylists, we set out to develop a range of formulas that solved curly girl problems. And that's just what we've done! From our scalp range that clarifies and detoxes, to our strength range that helps to repair hair bonds, you'll find your perfect solution. Using natural, vegan and cruelty-free ingredients, our products have fast become a staple in achieving the curly hair of your dreams!