Rice Water for Hair: Benefits & How to Use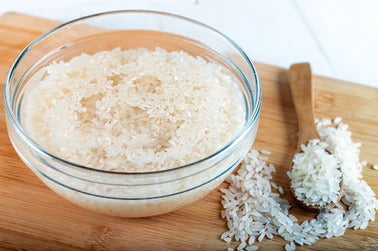 Rice water for hair has been used for years in Asia, but what exactly is this mystery elixir and how can it benefit your own hair? Promising added shine, strength and a whole wealth of other goodness, it's no wonder you're intrigued by this ingredient. Our guide for rice water for hair breaks down everything you need to know. From what it is, to how you can embrace it into your own haircare routine.
What is Rice Water?
Rice water is essentially what its name suggests, water that has been infused with rice. Rice is left to sit in water, allowing the grain's properties to flow into the liquid. As rice is made of roughly 80% starch, the water also becomes very starchy. Furthermore, the water contains many vitamins and minerals, such as amino acids, vitamin D, vitamin E, and antioxidants.
Is Rice Water Good for Your Hair?
With so many nourishing vitamins and minerals, rice water can do wonders for your hair. Each characteristic of the rice water can be seen to benefit hair in different ways, such as improving strength and encouraging hair growth.
Encourages Strength

- Rice water contains amino acids. These are the building blocks for protein, which is the basis of your hair. These can help fortify the hair, increasing strength. They can also help you achieve the ultimate

protein moisture balance

.

Encourages Growth

- The restored strength allows your hair to grow to its full potential, as the rice water helps to fight against

hair breakage

.

Increased Softness & Smoothness

- Those who have used rice water for hair, report that their hair feels soft and smooth after use.

Increase Shine -

Again, those who use rice water for hair states it leaves their locks with an added shine.

Hair Becomes More Manageable

- Due to the hair becoming smoother, it is easier to detangle and to manage.

Reduced Surface Friction

-

A scientific study into the benefits of rice water for hair

found that the liquid appeared to reduce surface friction. This again helps to reduce breakage.
With so many benefits to using rice water on your hair, it's no wonder so many people are loving this ingredient! After all, who doesn't want shiny, soft hair that is super easy to manage?
Is Rice Water Right for My Hair Type?
Whilst using rice water for hair has its perks, it's important to determine whether it is the right thing to use on your own hair type. Everyone's hair is different, and so reacts differently to whatever we may put on it. If you're using rice water in its pure form there are a few things you may want to consider.
As rice water is very heavy in starch, it can cause brittleness if overused. Those with

low porosity hair

may want to use with caution as this hair type struggles to take in moisture. Due to the starch coating the outside of the hair shaft, it can make it even more difficult for moisture to enter the hair shaft.

Using rice water for hair in excess can also cause build up on the scalp, if this happens we suggest you reset your hair using a clarifying shampoo.

As rice water is rich in amino acids, using it too often could cause

protein overload

leading to brittle hair. This can be repaired by using a clarifying shampoo, and giving your locks a moisturising deep treatment.
Don't let these worry you though! The best way to see if rice water is right for your hair is simply to test it. Using products that are enriched with rice water, rather than using it in its pure form is also a safe way to reap the incredible benefits from this ingredient!
There are many benefits to using products infused with rice water over DIY rice water treatments. DIY rice water requires lots of time as the rice needs to soak overnight, using formulas that include rice water can be far more convenient. In addition to this the yucky smell that is so common with rice water disappears when used in a product rather than in its raw form.
Can I Use Rice Water on My Curly Hair?
When it comes to curly hair you want to ensure the products you use are helping to enhance your curls. Whether you have curly, wavy, or coily hair should make no difference as to whether you can use rice water. For those looking to restore strength and shine back to their curls this could be a wonderful ingredient to try. But as everyone's hair is different we suggest you test it for yourself and see how your own hair reacts to determine if it is right for you.
Rice Water for Hair Growth
Rice water is often linked to hair growth. Whilst there is no scientific evidence to back up this claim, there certainly is a lot of anecdotal evidence. Rice water has been used for hair for centuries by women in Asia. In fact, the village of Huangluo in China has become known as 'the world's longest hair village.' This is because the women have an average hair length of four and a half feet! As well as this, their hair also keeps its colour well into their 80s! The women believe this is down to bathing their hair in rice water.
How to Effectively Use Rice Water in Your Haircare Routine
There are multiple ways to use rice water for your hair. From using it as a final rinse, or simply using products that are enriched with rice water themselves. Depending on your personal preferences you can choose between using your own homemade rice water or opting for an easy and convenient option with a haircare formula that already includes this wonder ingredient.
Rice Water Infused Products for Gorgeous Hair
At Curlsmith we believe in creating beautiful products that really work for curly hair. Using products enriched with rice water is so easy as it takes no preparation time. With its detangling properties, rice water makes the perfect ingredient for our Super Slip Pre-Biotic Primer. This pre-poo is ideal for nourishing the scalp, whilst keeping curls smooth and detangled whilst washing!
What Makes Curlsmith Special?
We specialise in creating formulas that really work for curly hair. Combining natural ingredients, with kitchen cupboard staples, our products tackle all of your hair needs. From providing hydration with our
moisture range
, to detoxing the hair with our
scalp line
, and reinforcing hair bonds with our
strength line
. Whatever your hair goal, we've got you covered.