15 Best Products For Shiny Hair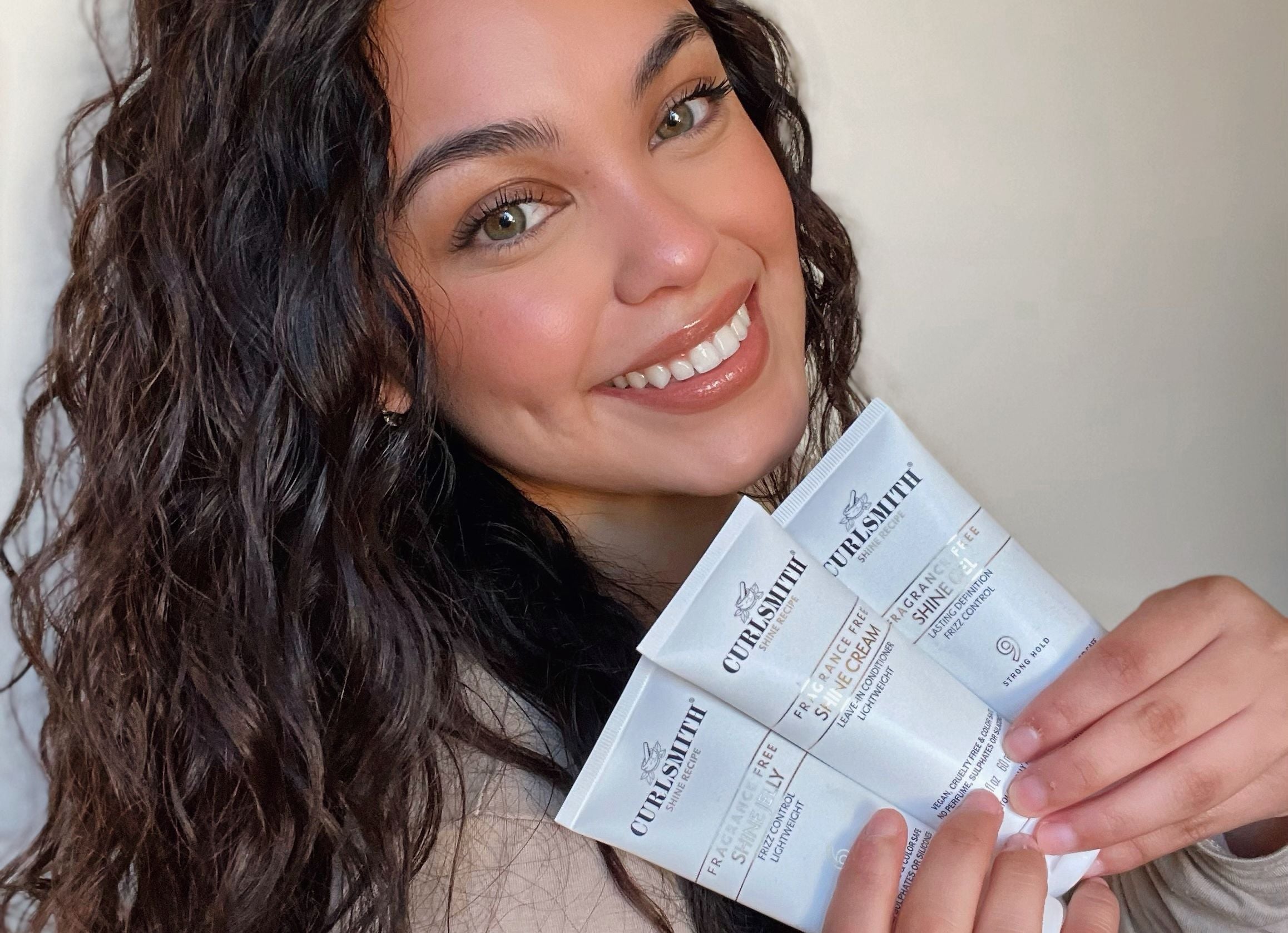 The Best Products for Shiny Hair
If you're looking to enhance shine on your curls, you should focus on styling products. While shampoo and conditioners may help with shine, as they remove dulling particles from the hair and nourish it, styling products tend to make the biggest impact when it comes to having noticeable shine. The following product types are the most effective to provide shine:
Gel

Oils

Serums

Shine sprays
These are all finishing products that are used towards the end of your routine. They create that barrier on your curls and reflect light. Having shine on your curls will also enhance your curl pattern and make the hair look and feel healthier.
Best Curlsmith Products that Enhance Shine
Curlsmith has various collections of products that are formulated to combat dullness and enhance shine. The Shine Recipe is designed to fight build-up, pollution, and other external agents that cause hair to appear dull. The Shine Recipe is dermatologically tested, fragrance-free, and suitable for those with sensitivities. The Color Recipe is also great for improving hair shine and is colour-safe. All Curlsmith products are vegan, cruelty-free, and ethically sourced.   
Leave-Ins & Styling Creams
Shine Cream (Fragrance-Free)


The Shine Cream is a lightweight

leave-in conditioner

that is suitable for all hair types. It smooths and makes the hair glossy while providing a moisturising base for styling.
Curl Conditioning Oil-in-Cream


The richest leave-in is Curlsmith's Curl Conditioning Oil-in-Cream. This is ideal for extra

dry hair

, bleached or highlighted curls, high porosity hair, or coarse textures. The rich blend of Shea Butter, Coconut Oil, and Olive Oil provides softness and helps lock in moisture. 
Hold Me Softly Style Balm


This medium-weight styling cream is great for most curl types, especially those with dry hair. It not only provides moisture but helps enhance curls and encourage clumps. Due to the blend of Coconut Oil, Avocado Oil, Sunflower Oil, and Apricot Kernel Oil, this cream will also provide shine for the hair.

Gels
Shine Gel (Fragrance-Free)


This strong hold gel has a level 9 hold out of 10, and provides long-lasting definition, humidity protection and shine. It contains a blend of hops, jasmine flower, and lemon peel while being

fragrance-free

for the most sensitive skin. It's suitable for all hair types, but may benefit medium to coarse-textured hair due to its thick formula.
Shine Jelly (Fragrance-Free)


A medium-hold option in the

Shine Recipe

is the Shine Jelly, which provides a level 6, flexible-hold. This lightweight gel provides definition,

frizz control

, and shine while being fragrance-free. It's a great option for very fine textures due to its thin, jelly formula. 
Curl Defining Styling Soufflé


The Souffle is a medium to strong, but buildable, hold gel. It's formulated with great film-forming humectants like Aloe, Flaxseed, and Irish Moss, which create beautiful shine and definition while trapping in moisture. It also contains oils such as Babassu Oil, Avocado Oil, and Sunflower Oil. 

Oils
Bonding Oil


Bonding Oil is a multi-purpose oil that works on all hair textures. It's part of the Strength Recipe, so it not only provides great shine but

helps to repair damaged hair

and prevent future breakage. It's blended with both penetrating and sealing oils that are formulated to be more lightweight, including Olive Oil, Shea, Castor Oil, and Apricot Kernel Oil. For maximum shine, it can be used as a finishing oil to soften your

gel cast

and lock in moisture.
Intense Treatment Serum


Ideal for coarse hair textures, the

Intense Treatment Serum

is a solid butter-formula that turns to a rich serum oil with the warmth of your hands. It contains Shea Butter, Oat Kernel Oil, Macadamia Oil, and others that seal in moisture. It's also multi-purpose and can be used as a pre-shampoo oil, overnight treatment, or finishing serum.

Shampoos
Shine Shampoo (Fragrance-Free)
Great for all hair types, even straight hair. The Fragrance-Free Shine Collection is designed to provide shine with its blend of oils, extracts, and citric acid. Citric Acid helps maintain the hair and scalp's pH while gently cleansing. 
Vivid Tones Vibrancy shampoo
Perfect for people with colour-treated hair, but also great for anyone who wants to enhance vibrancy. The Colour Recipe is designed to enhance colour vibrancy and provide shine. Formulated with citric fruit extracts, this pH-balanced shampoo gently cleanses and is safe for regular use. 
Wash & Scrub Detox Pro-Biotic Shampoo
When product build-up is dulling your hair's shine, the Detox Shampoo is the best way to clarify without stripping your hair. This is best used every 4-5 washes, depending on your routine. Use in combination with the Super Slip Prebiotic Primer to protect the hair's moisture before clarifying.
Conditioners
Shine Conditioner (Fragrance-Free)


Suitable for all hair types, the Shine Conditioner helps to provide softness, smooth the hair after shampoo, and enhance shine. It's lightweight so it won't weigh down fine hair textures.
Glow Perfecting Conditioner


Part of the

Colour Recipe

, the Glow Perfecting Conditioner provides moisture without weighing down the hair. It's formulated with naturally-acidic ingredients that help to lower the pH of the hair after shampooing, restoring shine and softness.
Multi-tasking Conditioner


Perfect if you have damaged or

high porosity hair,

this conditioner is enriched with protein to strengthen the hair shaft. You can use it as a rinse-out or leave it on for longer if you feel you need a

deep conditioning treatment

.
Double Cream Deep Quencher


Curlsmith's richest deep conditioner, the Double Cream Deep Quencher is ideal for extra thirsty curls, coarse textures, and high porosity hair. This thick deep conditioner will also help boost shine due to a rich blend of Shea Butter, Sunflower Oil, Apricot Oil, and Avocado Oil.
Ingredients to look for to enhance shine
There are some specific ingredients that make styling products even shinier, specifically oils and film-forming agents. These are also beneficial when found in shampoos and conditioners to really help make your hair shiny. Here are some examples:
Natural plant oils: Jojoba Oil, Castor Oil, Sunflower Oil, Argan Oil, Coconut Oil

Natural plant butters: Shea Butter, Cocoa Butter

Film-forming humectants: Aloe, Honey, Agave, Slippery Elm, Irish Moss

Natural extracts: Bamboo, Hops, Lemon, Apple Cider Vinegar (ACV), Jasmine

Silicones: these create an artificial film on the hair but do not provide long-lasting benefits to the hair and can cause buildup over time
The perfect routine for shiny curls
Correcting issues like product build-up, dryness and hair damage will help improve shine naturally. Completing your routine with styling products is key to boost shine, define your curls and help them hold their shape. Stylers will also ensure that your curls don't become dull in between washes.
Here is a step-by-step routine that will have your curls looking shiny and healthy in no time.
Clarify to remove buildup
Using a clarifying shampoo regularly is key to keeping your curls shiny. Depending on how often you wash your hair, you may need to use it every 4-5 washes. This will help remove product and environmental build-up that may be dulling your hair. Massage the clarifying shampoo onto the scalp, adding some water as you go to increase the foam. Rinse thoroughly.
Deep condition for healthier curls 
Conditioner is great for regular use, but a deep conditioner is often needed to add extra moisture to dry curls, especially after clarifying. Conditioners and deep conditioners help lower the cuticle after it was raised during shampooing, which restores shine and manageability to the hair. Apply your choice of deep conditioner to hair and comb it through. Clip hair up and let it sit for 10-20 minutes. You can add a shower cap or heated cap over your hair to help increase the penetration of the deep conditioner. Rinse thoroughly.
Apply leave-in conditioner or styling cream for moisture
Moisture is key for more shiny, vibrant curls. Start damp or wet hair and apply with leave-in conditioner or styling cream for a moisturising base, then lock the moisture in with a gel. 
Apply gel to lock in moisture & provide shine
Gels are essential if you want mega-shine and long-lasting frizz protection. Gels are amazing at adding noticeable shine to the hair because they create a film on the hair, and once dry, provides a cast that can be softened or left in for extra long-lasting curls. Apply a gel of your choice in sections for more even coverage. Scrunch to encourage curl definition and bounce. Air dry or diffuse curls for extra volume.
Soften, lock in moisture, & get mega shine with an oil
If you're looking to add additional shine, and soften your curls, finish off your routine with a hair oil. Smoothing an oil over your curls once they're completely dry can help break the gel cast if you prefer a softer look and feel. Hair oils also help to seal the hair's cuticle, locking moisture within so your curls won't become dry in between washes.
Why Curly Hair Lacks Shine
If you have naturally curly hair, you likely have struggled with dullness at some point. Curly hair tends to be less shiny compared to straight hair because of its natural characteristics, but there are also additional factors that can make the hair appear less shiny. 
The natural hair pattern
Due to the shape that curly hair strands make, natural oils from the scalp have trouble reaching the lengths of the hair, resulting in a dull, dry appearance. The irregular shape of curly hair textures also doesn't reflect light the same way that smooth, straight hair can, so it can appear less shiny. 
Damage levels
The level of damage on your hair can make the dullness even more prominent. Any hair type can experience damage from chemicals like bleach and hair dye, hot tools, brushing, and environmental factors that can cause the hair to become more porous. High porosity hair has a more raised cuticle layer which can also be the cause of dullness and lack of shine. Low porosity hair, on the other hand, often appears shiny and smoother because the light can reflect better on the cuticles.
External build-up
Product build-up can also lead to a lack of shine. Build-up is very common with curly hair, because we use styling products that help condition the hair and tame frizz, and we tend to wash our hair less often. But products aren't the only cause of build-up. Hard water is also a common culprit of dullness on the hair due to minerals that cling to the shafts and can accumulate over time. Chelating shampoos are the only type of shampoos that can remove hard water build-up and restore the lost shine.
Get shiny curls with your products
There are many great products that help to enhance shine for our curls, ranging from shampoos, to conditioners, to styling products. Styling products are most impactful when creating shine because they are left on the hair. Gels and oils or serums can also be used in between washes to restore shine if your curls become dull. However, properly moisturising and sealing your curls will result in long-lasting moisture and shine. Using products that are well-formulated with moisturising ingredients, film-forming styling agents, and oils will ensure you get the most shine out of your routine and prevent curls from becoming dehydrated.