Four-Step Method With Moisture Recipe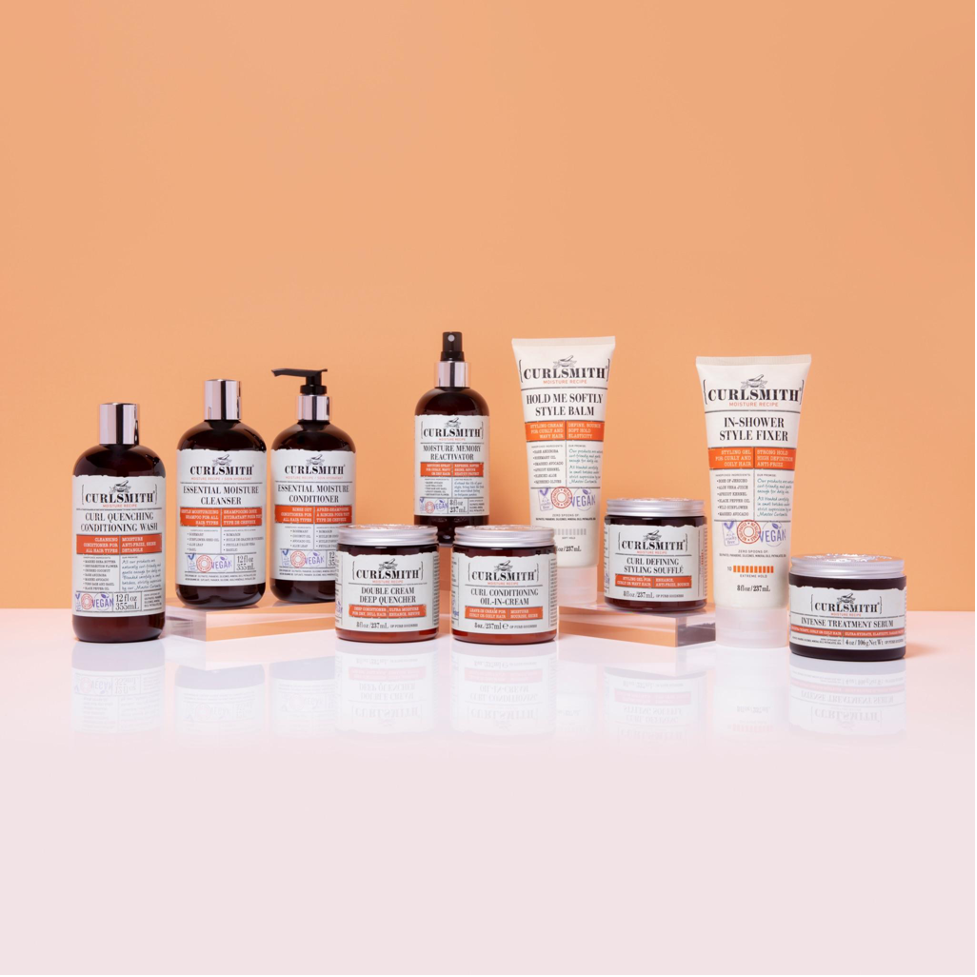 Curlsmith has a four-step method to make every wash day successful. We are excited to reveal that launching our new Essential Moisture Shampoo and Conditioner will provide perfect hydration to everyone, whether curly, coily or wavy.
Starting from the beginning of our four-step method, let's work through each step to give an insight into your new curly hair routine. The products chosen will vary depending on your hair texture or desired outcome. So read carefully to ensure that you select the products to achieve the best results. 
Step 1: Wash
Our new Essential Moisture Cleanser is great for frequent washes. The foaming action gently removes dirt and build-up from the scalp without stripping the natural oils, leaving your hair hydrated and nourished. It offers long-lasting frizz control and increases the moisture in your luscious locks by 87%*. This shampoo is the perfect everyday cleanser for all curl types and textures. 
*Based on third party testing of Curlsmith Essential Moisture Cleanser & Conditioner vs a non-conditioning shampoo
Next, we have our Curl Quenching Conditioning Wash, a 2-in-1 shampoo and conditioner. The co-wash has a conditioning base with low amounts of cleansing agents, making cleansing very moisturising. It's ideal for those that want to wash their hair most days. However, we advise interchanging with the Essential Moisture Cleanser to ensure that the dirt and build-up are removed from the scalp. Always remember healthy-looking hair starts from the scalp!
Our Essential Moisture Cleanser is designed to be applied directly to the roots. However, our co-wash should also be worked through the lengths and ends to moisturise and assist with detangling. Once you have applied your chosen cleanser and thoroughly rinsed, you are ready to condition.
Step 2: Condition
For frequent use, apply our everyday Essential Moisture Conditioner. This conditioner will deliver every wash day, regardless of hair type or texture.The lightweight creamy texture melts onto your strands, delivers hydration, and increases moisture in the hair by 87%*. It offers long-lasting frizz control and leaves your tresses feeling soft, and healthy. Once applied and detangled section by section, leave for 1-2 minutes, then rinse. 
*Based on third party testing of Curlsmith Essential Moisture Cleanser & Conditioner vs a non-conditioning shampoo
Alternatively, when deep conditioning, which we recommend doing weekly, use our Double Cream Deep Quencher. The intense deep conditioning treatment targets the driest areas to nourish and re-moisturise your tresses. The treatment provides a great slip to assist with detangling and leaves your locks feeling silky and soft. Once the conditioner is applied and your tresses detangled, for a quick moisture boost, leave for 15 minutes. For a deep moisturising treatment, leave to penetrate for 30 minutes and then rinse.
Once you have thoroughly rinsed your chosen conditioner, move on to the next step to moisturise and prime your locks.
Step 3: Moisturise
We recommend applying a leave-in conditioner to moisturise and prime the hair, ready for the styler. We have two leave-in conditioners in the range, the lightest being our Moisture Memory Reactivator. The multi-use lightweight spray is a leave-in and a refresher to revive your curls in between wash days. It is suitable for all curls types and textures, even fine hair. 
Next, we have our Curl Conditioning Oil-In Cream. The rich leave-in conditioner is perfect for protective styles and to prime the hair before applying your styler. Apply to the hair section by section, working the product through the lengths and ends; a little goes a long way. It's suitable for all hair types, but our curl friends with medium to coarse textures or extra thirsty hair will love this leave-in as it delivers deep moisture and hydration without weighing down your locks.
Once you have worked your product through each section, your hair is ready for the styler.
Step 4: Style
Applying a styler to your hair helps to define and enhance your curls. Our stylers have a number system from 1-10 to indicate the hold level (one is a soft hold, and 10 is a stronghold). Our Hold Me Softly Style Balm (level 1) is a lightweight cream that distributes easily throughout your lengths and ends to moisturise, define and enhance natural curls. What's unique about this styler is that it can also function as a leave-in conditioner. If you are the type of curl friend that likes a soft, supple finish, this is the styler for you. However, if you prefer a styler with more hold, check out our Curl Defining Souffle (level 8).
The Curl Defining Souffle is our best-selling styler because of its unique ability to offer moisture expected from a styling cream with the hold of a gel. The jello-like consistency allows the product to glide easily throughout the hair, to enhance and define your curls. The product creates a slight cast when drying for definition and is suitable for all curls and textures.
For our curl friends that prefer a gel styler and want more hold, our In Shower Styler Fixer is what you need. This gel is the strongest styler in the range (level 10). It provides ultimate definition, long-lasting, weather-resistant curls to all hair types and textures. While drying, the gel creates a strong cast, but don't worry; you won't be left with crispy curls. Once 100% dry, scrunch the crunch with oil such as our Intense Serum Treatment to reveal soft, bouncy locks.


Optional Fifth Step
Our Intense Serum Treatment is yet another multi-use product. It functions as a pre-poo, overnight treatment, and finishing product. The buttery texture melts into an oil when rubbed into your hands before application. It is very rich in moisture, and a little goes a long way. Although the product is suitable for all curls and textures, we recommend only using it as a finishing product if you have very coarse or thirsty tresses.
Tips 
Although we can create the perfect routine with the moisture recipe range, it is essential to incorporate protein occasionally to maintain a moisture-protein balance. In addition, having our Wash and Scrub Detox clarifying shampoo on hand every 4-5 washes will keep those curls on fleek.
All Curls Love Moisture
All curls need moisture, so completing your wash day routine makes perfect sense with our Moisture Recipe range. Our products include ingredients that curls love and leave out the ones they don't, such as sulfates, parabens, drying alcohols, and silicone. In addition, we don't test on animals and are vegan-friendly. If you want further help choosing what products suit your tresses, take our curl quiz to receive personalised recommendations.