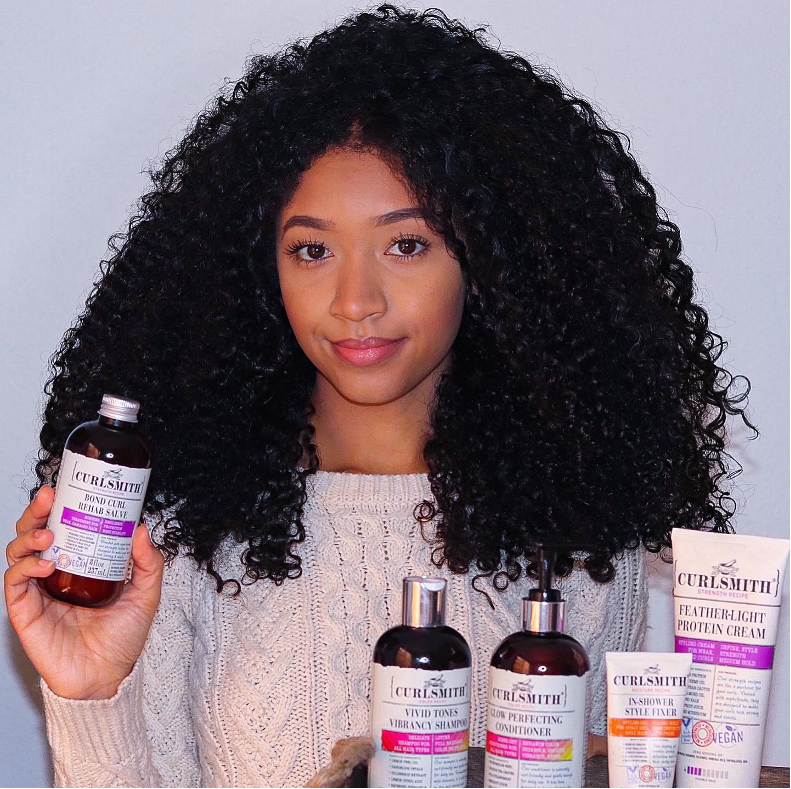 Finding an easy wash-day routine for curly hair can often feel challenging. The information overload on the internet can be daunting and leave you feeling unsure where to start. A great washday routine can make all the difference to the look and health of your curls though and does not need to be complicated – we promise!
Benefits of a good wash-day routine
A good wash day routine is a commitment to your hair to nourish and protect it throughout the week. Finding products that work best for your hair, and consistency in how you use those products, can help to:
Manage existing and help to prevent future damage

Minimise split ends and breakage

Add longevity and hold to your wash

Define your curls and minimise frizz

Strengthen the hair strands

Reduce dryness and tangles

Add shine
Curly hair can pose a whole host of challenges in ensuring it looks its best from dryness and frizz, to weakness and lack of hold, to lack of definition and shine. The list of curly woes can seem endless but establishing a good routine can put all of these things to bed. Curly hair products are designed to tackle many curly hair challenges and understanding how to set up your washday to cater to your particular curly needs can transform your hair. 
How do you find this routine though? Let us help! Read on for Curlsmith's handy step-by-step guide to washing, conditioning, and styling your curls.
Pre-poo
Pre-poo refers to the application of a treatment to the hair before shampooing. A pre-poo such as the Super Slip Primer provides the scalp and  hair with a protective layer, preventing shampoo from excessively stripping the hair of its natural oils and reducing swelling caused by water. 
How to use: 
Wet the hair but do not shampoo or condition.

Apply your pre-poo from root to tip, coating the hair evenly.

Gently detangle the hair with your fingers or a brush.

Do not rinse your treatment and follow with shampoo.
Shampoo
Shampoo is a particularly important part of any curlies routine and is vital to maintain a healthy, well-balanced scalp and hair that is free from build-up. Built-up hair can become weighed down and lose its curl, whilst clogged follicles can lead to slowed hair growth and increased shedding. All Curlsmith shampoo is sulfate to avoid overly stripping the hair of its natural oils, causing dryness and breakage. 
How to use:
Thoroughly wet your hair.

Dispense your shampoo into your hands and work into a generous lather between your palms.

Work the lather into your scalp, massaging vigorously to break down dirt and build-up.

Rinse thoroughly until the water runs clear.
Conditioner
Using a conditioner after shampoo helps to rebalance your hair's pH, reducing dryness and breakage. Conditioners also add softness to the hair, smoothing the cuticle and giving that post-wash feel we all crave. For those who have particularly dry hair, try a deep conditioner recommended for weekly use over rinse out conditioner for added moisture, softness and shine.
How to use: 
Work your conditioner through wet hair, starting at your ends and moving upwards towards the roots.

Leave a rinse out conditioner for 1-2 minutes and a deep conditioner for up to 30 minutes to allow the product to work its magic.

Gently detangle using your fingers, or a brush.

Rinse thoroughly.
Style
Styling can be broken down into three simple steps; define, volumise and hold.
Define: Remember, what your hair looks like wet, is how it will dry (albeit with shrinkage!) As such, defining your hair effectively when wet is very important.
How to define: 
Rake your leave-in through soaking wet hair, making sure to lift the hair up and away from your scalp so that it does not become stuck. 

Now define! You can choose from several definition methods, including: 

Scrunching your hair.

Brush styling your hair, "ribboning" sections of your hair over the edge of the brush. 

Finger coiling your hair, taking sections of your hair, and twirling each section around your finger.
Once you are happy with the look of your wet curls, use a microfiber towel to scrunch out excess water.
Volumise
For those who need a little extra volume, using a foam such as our Bouncy Strength Volume Foam is a great way to help add some oomph, without weighing down your curls. 
How to add volume:
Pump a little foam onto your fingers and massage between your fingertips.
Use your fingertips to gently rake the foam into any areas that need extra volume – this is particularly great for root volume!
Scrunch or use praying hands to apply any remaining foam to your hair for extra volume and definition.
Hold: Adding hold to your hair in the form of a gel is a great way to ensure your style lasts for longer! Remember, the wetter your hair, the more diluted your gel will be, and the less overall hold you'll achieve.
How to add hold:
Decant your gel into your hands and rub well between your palms.
Scrunch or use praying hands to apply your gel to damp hair, ensuring you are covering the hair from top to ends.
Dry
There are several ways to dry your hair including air drying, using a hood dryer or diffuser, or even in your car with the car heaters if you're in a rush! Different drying methods will create different looks for your curls, so think about your curl goals. 
For a more elongated, natural look, try air drying, or hover diffusing (holding your diffuser away from your hair and moving it around your head.)
For more shrinkage and definition, try pixie diffusing (cupping your curls in your diffuser bowl and pressing the dryer up towards the scalp.)
If you have used a gel or foam whilst styling, you may feel a hard, crunchy layer form on your hair as it dries. This is known as a cast which can be scrunched out gently with the palms of your hands to reveal soft curls. Add a little oil such as our Bonding Oil or Shine Oil to your palms before scrunching to seal your curls and add shine.
The Curlsmith Method
The above guide follows the Curlsmith Method- a simple yet effective approach to getting the most out of your curls on wash day:
Wash:

 

Cleanse your hair with a shampoo to remove dirt, oil, and buildup.
Condition:

 

Rebalance your hair's pH and combat dryness with a rinse-out conditioner.

Moisturise: Add a leave-in conditioner to your hair to moisturise, and prep for styling.
Style: Work towards your styling goals with a variety of stylers, designed to produce different looks and achieve the curls of your dreams. 
Treat: Includes a range of products that may not be needed every wash day but can be extremely beneficial to include as and when your hair or scalp needs it. A pre-poo to protect the hair during cleansing, deep conditioning treatment for added softness, a bond rebuilder for strength, an oil for added shine or even treat your scalp with a stimulating serum. 
Hints and tips for tackling different hair issues
Very dry hair
Try alternating a co-wash such as our Curl Quenching Conditioning Wash with your shampoo for a gentler, less stripping cleanse.

Substitute your rinse-out conditioner for a deep conditioner every so often for extra softness.

Always apply a leave-in conditioner before your gel to add moisture and minimise dryness.
Damaged hair
Wash day mistakes to avoid
Whilst shampooing is an important part of a wash-day routine, it's possible to have too much of a good thing. Don't overuse strong shampoos to avoid excessive dryness and breakage. Incorporate your clarifying wash every 4-5 washes with the Wash and Scrub Detox,  and use a low poo or even a cowash between clarifying treatments. The Curlsmith Curl Quenching Conditioning Wash is a great example of a cowash, gently cleansing and moisturising without stripping away the natural oils. It is suitable for all curl types but especially those with medium to coarse hair.
Don't wait too long to apply your styling products. Applying styling products to hair that has dried too much can cause stringy curls and excess frizz. Make sure your hair is wet enough when applying your styling products to promote maximum curl definition.
Finally, be aware of the ingredients in your hair products. If you have particularly dry hair, for example, you may wish to avoid ingredients such as sulfates which can cause extra dryness. 
Final thought
No matter what challenge you are facing in setting up an effective routine for your curls, Curlsmith is here to help. Our products are designed to combat any curly woe, feeding the needs of curly hair with nutritious ingredients such as superfoods and avoiding any ingredients that can be harsh on curls, including sulfates, parabens, drying alcohols, mineral oils and phthalates. Why not take our curl quiz to walk you through the most appropriate products for your hair and how you can fit these into your very own Curlsmith Method.