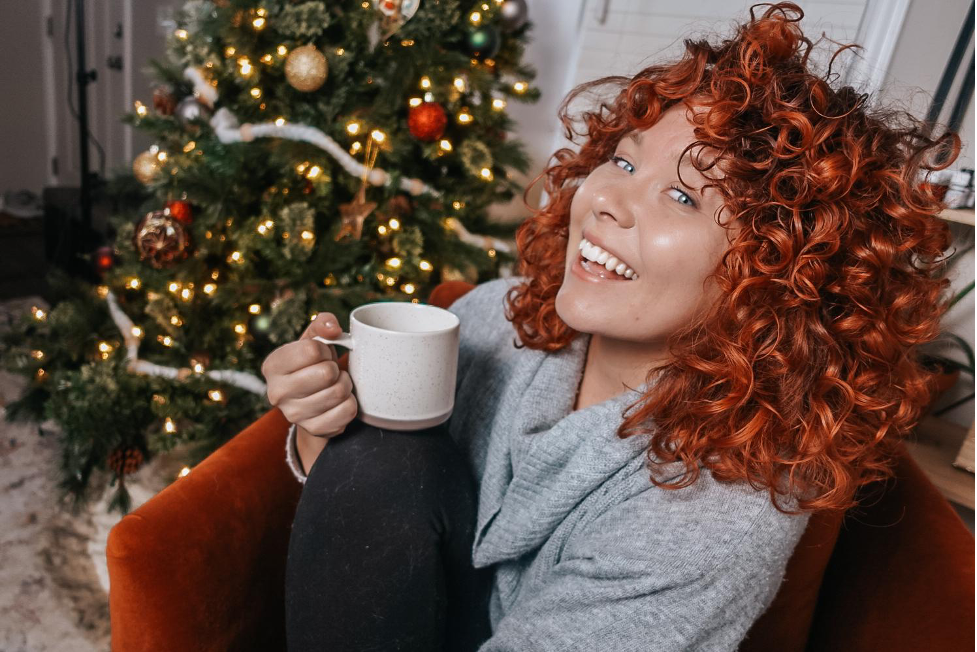 Festive hairstyles for curls are here, and we have the perfect guide to see you through the holiday season. Whether you are a Grinch or a believer, there will be an event to get dressed up for in the diary. Maybe a Thanksgiving dinner or work Christmas party, whatever the occasion, you will have to compliment your outfit with one of our four amazing festive styles.
4 Festive Hairstyles for Every Holiday Occasion
For some of our curly hair friends, putting your hair up can be daunting, but rest assured, our easy step-by-step guide will make you feel like you're a pro! In addition, as a festive treat, we have included some of our stocking stuffer duos to help you recreate the looks at home.
Pineapple With A Twist
It's not just the festive decorations that get to shine; recreate this pineapple with a twist using our Shine cream and Shine gel duo. 
Step 1
After your regular curly wash routine, section your hair and apply our shine cream, a lightweight leave-in conditioner, to moisturize and prime the hair. Work the product through each section for even distribution using the praying hands or raking method.
Step 2 
Apply our Curl Defining Styling Souffle for definition and lasting results. Work the product through each section using your desired styling method.
Step 3 
Air dry or diffuse with our XXL Diffrizzion Dryer until your hair is 100% dry, then scrunch the crunch with our Frizz Control Finishing Serum to define, provide frizz control, and add shine. 
Step 4 
Take a section of curls around your face to create bangs. The more curls you add, the fuller your bangs will look. 
Step 5
Tie the rest of your hair up in a pineapple and separate the curls where necessary to create a fuller look.
Reverse Half Up, Half Down
Try this creative reverse half up half down party style with our Moisture Recipe Curl Quenching Conditioning Wash and Hold Me Softly Style Balm stocking stuffers in six simple steps.
Step 1 
Wet your hair, apply Curl Quenching co-wash to your roots, and massage your scalp. Add more product to your mid-lengths and ends and gently detangle with your fingers, a wide toothcomb, or a brush. Then rinse thoroughly.
Step 2 
Section your hair and apply Hold Me Softly Style Balm, which is a leave-in conditioner and styling cream. Work the product through each section for even distribution using the raking method and/or praying hands. 
Step 3
For the twist out, take medium-sized sections of hair throughout your entire hair and create two-strand twists. Ensure that you are directing the twists forward in the front section, as this is the direction you want your hair to fall for this style.
Step 4
Allow the hair to dry 100%, and gently unravel the twists separating the hair as you go along for a natural look. 
Step 5 
Section the hair from ear to ear and secure the back section at the top of your head with a hair tie.
Step 6 
Separate the curls in the front section to create added fullness, and add accessories to the back for that party vibe.
Au Natural
Sometimes, it's nice to keep things classic and embrace those natural bouncy curls. Achieve this festive hairstyle with our Frizz Rescue Duo Conditioner, and Frizz Rescue Curl Retainer.
Step 1
Once you have washed and conditioned, section your hair and apply our Hold Me Softly Style Balm. Ensure you work it throughout the lengths and ends using the raking method for even distribution.
Step 2
Apply our Frizz Rescue Curl Retainer to each section using the styling technique of your choice.
Step 3
Air Dry or Diffuse.
Step 4
Once the hair is 100% dry, scrunch the crunch with our Bonding Oil to seal the cuticle, add shine, and reveal soft, bouncy, defined curls.
Step 5
To make your hair look fuller, use our Bamboo Pick at the root to create more volume.
Side Swept
Get festive-ready with a red lip, pearl hair accessory, and luscious curls. Our Weightless Air Dry Cream and Hydro Style Flexi Jelly duo will be sure to deliver every time!
Step 1 
Apply our Weightless Air Dry Cream to freshly washed hair to moisturize and prime. Ensure you work the product through the sections evenly using the raking method.
Step 2
Apply our Hydro Style Flexi Jelly to define your curls without compromising on volume. Work the product through the lengths and ends using the styling method of your choice, ensuring that you have created a side parting.
Section 3 
Air dry or diffuse with our XXL Diffrizion Diffuser until 100% dry.
Step 4
Gently smooth the lesser side of the hair just behind the ear and secure it with your chosen accessory.


After reading the easy-to-follow step-by-step instructions, you can confidently select a style for the occasion. There is no longer an excuse not to have fabulous hair. 
Add a Pop of Festive Colour to your Curls
If you want to add a pop to your curls, why not get in the mood and pair your festive style with a festive colour such as our Ruby Red. Our temporary hair colours do not contain any dye, the colour comes from pigment-like makeup so it sits on top of the hair shaft, leaving the hair undamaged. It is great for those who don't want to commit to a colour as it rinses from the hair in just one wash. The colour is also combined with a gel, so it provides the perfect hold once applied to your tresses.   
Seasons Greetings from Curlsmith
Spread the love this year with our stocking stuffers; we have recommended some of our favorite duos, but feel free to mix and match. If you want assistance selecting products, take our curl quiz to receive personalised recommendations and be on your merry way!