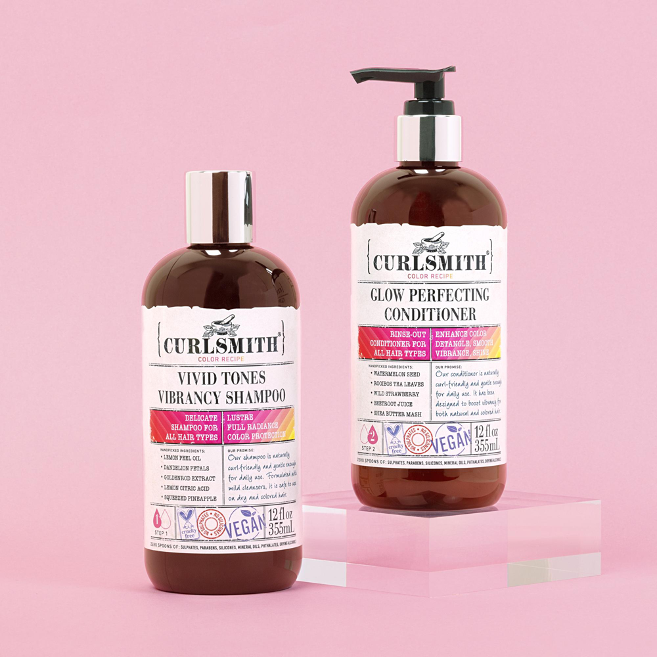 Fall is here, and for our curl friends who want to switch things up, that only means one thing, color transformations! It's time to make that change and embrace those autumnal vibes for that annual fall color change. But before you rush to make that booking with your stylist, it's vital that you know what products are needed to keep those curls popping after your transformation.
Whether you opt for a balayage, root drag, tint, or gloss, you must ensure that you have the correct aftercare. Otherwise, your tresses can become dry, dull, or damaged. As we know, curly hair is inherently dry therefore adding a chemical service to the mix means that moisture and protein are even more crucial in your hair care routine.
Protein Treatment
Caring for coloured hair starts on wash day, mostly with shampoo. Although occasionally, with a treatment like our Bond Curl Rehab Salve that strengthens the hair from the inside out. Bond Curl is an intense pre-shampoo treatment enriched with proteins that target all three hair bonds. 
How often you apply the treatment depends on the hair porosity and varies between every 2-5 washes. Before shampooing, wet the hair and apply generously, ensuring that you cover all your locks. Let the product sit for 15 to 30 mins (we'd recommend 15 mins if hair is only slightly damaged or has low porosity, 30 mins if highly porous and damaged hair). Then rinse thoroughly and follow with our Vivid Tones Vibrancy Shampoo.
Shampoo
Use a shampoo suitable for curly and colour-treated hair, such as our Vivid Tones Vibrancy shampoo, a mild cleanser for regular use. The shampoo includes lemon peel extract and citric acid to remove dirt and build-up. And a blend of dandelion, pineapple, and goldenrod extract to enhance colour vibrancy and shine. 
How to Use 
Wet the hair and pour a generous amount of shampoo into the palms of your hands, emulsify the product in your hands and then add to the roots only. Scrub vigorously to break down dirt, and build-up, then rinse. Repeat the process and then follow with our Glow perfecting conditioner.
Condition
Our Glow Perfecting conditioner is a lightweight everyday conditioner; suitable for all curl types and coloured hair. The conditioner features moisturising ingredients such as Shea butter and watermelon seed, known to moisturise without weighing the hair down. In Addition, a blend of Rooibos tea, strawberry, and beet extracts, known to boost vibrancy and shine.
How to use 
Once the shampoo is rinsed from the hair, apply a generous amount of conditioner to the mid-lengths and ends. Use the slip provided by the conditioner to detangle with your fingers or detangling tool of your choice. Leave on your locks for 1-2 mins and then rinse.
All three products provide your locks with the moisture and protein needed to keep your curls strong, vibrant and healthy looking.
Experts
You are now experts on the relevant aftercare; however, one big question remains: What shade of colour takes your fancy? Will it be a spiced copper, auburn, ruby red, barley blonde, or rich brunette?
Decisions, decisions, at least there's one thing for sure, whatever shade you choose, your curls will pop with the help of our products mentioned above.
For our curl friends who don't want to commit to a permanent colour, why not try one of our temporary colours? Available in 5 shades, ruby red, copper, rose gold, gold, and turquoise. 
Temporary Hair Colour 
Our temporary colour coats the hair with a rich pigment to provide a vibrant pop of colour, like makeup. It sits on the hair shaft, leaving your tresses undamaged. The colour is suitable to apply on wet hair for a natural look or on dry hair for a more intense pop of colour. Best of all, it works on all hair, even dark hair. The colour rinses from the hair with just one wash and doesn't stain even if applied to grey or bleached hair. The best part is that you can adapt the application, apply all over the hair for full coverage, or to separate curls for a highlighted effect. For those who want to see evidence of the amazing vibrancy the colour provides, check out the images below that can create those autumn tones.
Ruby Red
Copper
Gold
Ready For Fall With Curlsmith
Whether you want to commit to colour with your stylist or try our hair makeup at home, you now have all of the information needed to make your curls flourish. We have discussed the appropriate pre-shampoo treatment, shampoo, and conditioner suitable for curly-coloured hair. Although to make those curls juicy and defined, we need a complete hair care routine, including a leave-in conditioner and styler. If you want assistance choosing the best products to suit your needs, take our curl quiz and receive your personalised recommendations.