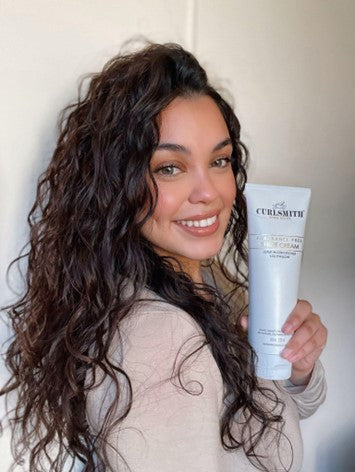 Curly hair tends to be less shiny naturally compared to straight hair due to the texture dispersing light as it reflects. There are several ways to improve the natural shine of your curls, including keeping the hair free of build-up and preventing damage. Fortunately, we can also get shiny hair using styling products.
Table of Contents
Use Styling Products with Film-Forming Properties
Styling products are the single biggest influence on your hair's shine. If you have curly hair and want to make it look glossy and juicy, you need to finish your routine with some kind of styler. Foams and texture sprays are not the best in this instance, as they texturize the hair and 'roughen up' the pattern to achieve more volume and a beachy look. Prefer a cream or gel that will smooth down the cuticle, define your curls and lock them in place, while creating a smooth surface that will reflect the light for extra shiny hair.
Cleanse Your Hair to Enhance Shine
Our scalp naturally produces a substance called sebum. This substance is fundamental to keep the hair shaft moisturized and healthy. However, if it isn't cleansed regularly it may build-up and accumulate on the hair, reducing its ability to reflect shine. This can happen, for example, if you only use a co-wash to wash your hair. Co-washes are great, but such mild detergents aren't enough to remove the build-up from the scalp in the long run. Understanding the difference between co-wash and shampoo and how often you should use one or the other is essential to develop a healthy routine that makes your hair shiny.
Keep Heat & Chemical Treatments to a Minimum
When the hair shaft gets damaged, its external cuticle structure becomes compromised, and the cuticles that protect it rise to create an uneven texture. This is not great to maximize hair shine, as the light doesn't reflect well if the cuticles aren't tightly closed. The more damaged your hair is, the duller it will appear. If you want to maximize your hair shine, make sure you avoid all those activities that can be damaging to the hair. This includes bleaching, coloring, heat styling, brushing, and swimming in chlorine or salt water without first protecting the hair.
Choose Shine-Enhancing Ingredients
The ingredients in your hair products are responsible for creating that glossy hair effect. Oils, extracts, and film-forming ingredients help smooth the cuticles and create a sheen on the hair. These are often found in gels and serums, but can also be in styling creams and butters.
Here are a few examples of powerful ingredients in hair care products that help make your hair shiny:
Natural plant oils: Jojoba Oil, Castor Oil, Sunflower Oil, Argan Oil, Coconut Oil

Natural plant butters: Shea Butter, Cocoa Butter

Film-forming humectants: Aloe, Honey, Agave, Slippery Elm, Irish Moss

Natural extracts: Bamboo, Hops, Lemon, 

Apple Cider Vinegar

, Jasmine

Silicones (although it's worth noting that these create an artificial film on the hair but do not add benefits to the hair and can cause buildup over time)
A Step-by-Step Routine for Shiny Hair
Thoroughly cleansing with a clarifying shampoo, followed by deep conditioning, and styling with light-reflecting products, will restore vibrancy and shine. If you're struggling with dull hair, the following routine serves as a reset and can be done weekly, or monthly, depending on the level of build-up you experience on a regular basis.
Start with a pre-poo oil such as Curlsmith's 

Intense Treatment Serum

 or Shine Oil. Let it sit overnight or for a minimum of 30 minutes to absorb. This will help protect your hair from becoming dry while clarifying. If you don't have enough time for a pre-poo treatment, you can just wet your hair and use the Curlsmith 

Super Slip Primer

 to assist with detangling, and prep the hair for clarifying.

Clarify using the Curlsmith 

Wash & Scrub Detox Shampoo

. Take time to thoroughly massage your scalp or use a scalp massaging brush. Rinse thoroughly. 

Complete the second cleanse using the Curlsmith 

Shine Shampoo

.

Condition using the Curlsmith

 Shine Conditioner,

 once detangled let it sit in the hair for two minutes and rinse out. 

Use a cream or 

leave-in conditioner

 such as the Curlsmith 

Shine Cream

, which contains a blend of natural oils, butters, and extracts that provide shine.

Use a gel for hold, definition, and shine. All the Curlsmith gels provide great shine, however, the Curlsmith 

Shine Jelly

 and the 

Shine Gel

 are specifically formulated to give long-lasting gloss to the hair. Style as desired.

Diffuse or air dry until your hair is completely dry.
Quick Fixes to Reduce Dullness
Many factors can make your hair dull, but luckily they are all easily resolved. Following a simple routine will help enhance your hair shine, reducing build-up and causes for damage. If you're looking for a quick fix, there is one product that will immediately add shine: hair oil. There are different types of hair oils, each of which has specific benefits depending on what you are looking for. The one thing they have in common is shine: when used as a finishing product, they'll give your hair an instant glow-up. Add them to your routine to make sure you never have to battle dull hair another day.
Shiny Hair the Curlsmith Way
Maintaining a routine of clarifying and deep conditioning will keep your curls from becoming dull. Look for styling products that contain film-forming ingredients, oils, and extracts that enhance shine, such as the Curlsmith Shine Recipe. This fragrance-free line is suitable for all hair types and packed full of shine enhancers. With proper care and the right products, you can improve your hair's natural radiance and health of your hair.