8 Reasons Why you Should Switch to a Microfiber Towel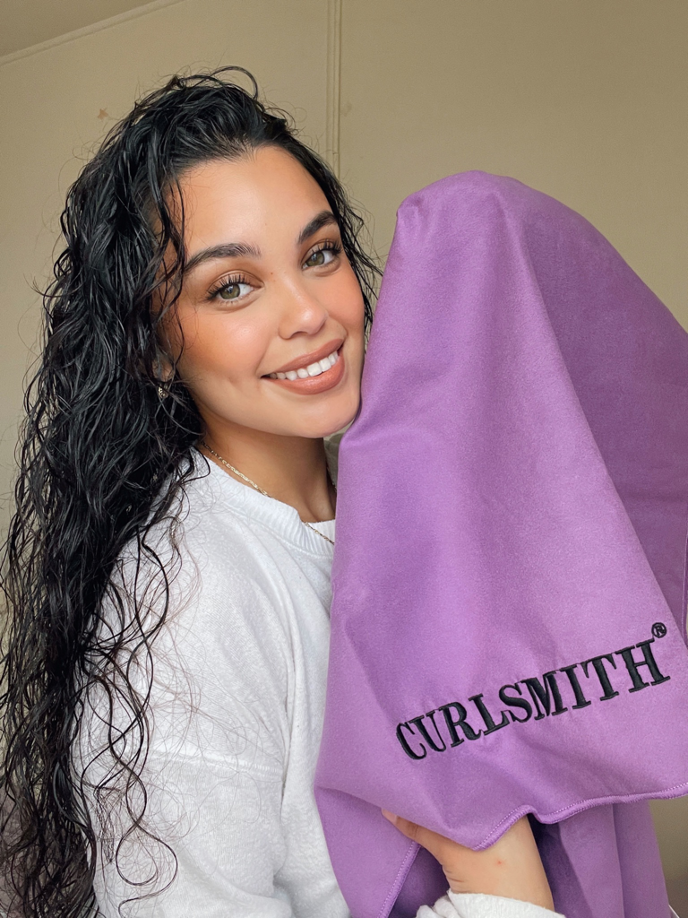 Microfiber towels have grown in popularity over the years as a staple hair accessory with several benefits to ensuring your locks stay healthy. 
Curlsmith is committed to providing what's needed to promote healthy hair, which doesn't just stop at hair products. Yet again, we have launched another must-have item, the new and much-needed microfiber towel! There are so many benefits to using our new towel to avoid the issues that come with using a traditional cotton towel.
Microfiber Towels vs Cotton
Traditionally cotton towels have been used to dry the hair, but with that came many issues. The cotton material is harsh against the hair and causes frizz, friction, and breakage, which you can avoid by switching to a microfibre towel. Although the benefits of microfiber towels suit all hair, they are especially great for all curly hair types. 
Benefits of Drying Hair with Microfiber Towel 
There are numerous benefits that come with drying your locks with a microfiber towel. Let's take a look at eight reasons you need to make that switch today!
Reduces Hair Breakage
When you have curly hair, it takes longer to see the growth as the length is absorbed in the curl. Therefore you don't want to do anything that can cause breakage, such as drying the hair with a towel that has a rough surface like the traditional cotton towel. The flat texture of the Curlsmith microfiber towel is so gentle on the hair. The smooth surface passes along your tresses, ensuring that you do not cause any friction and damage.
Reduces Snags
The small loops on traditional cotton towels can often get caught on the hair during the drying process, and this is what causes snagging, which can be pretty uncomfortable. Fortunately, Microfiber does not consist of these loops, as the fibers are tightly woven and flat. 
Microfiber is Lightweight 
The Curlsmith microfiber towel is very light in weight compared to a traditional cotton towel. This makes it more comfortable for those that like to wrap their hair in a turban. The turban technique allows the towel to absorb water without vigorously rubbing your locks. In addition, when it comes to traveling, it's easy to pack and doesn't take up much room in your case. Great news for those who want to fill their bag with their remaining Curlsmith products.
Assist with Styling
There are several ways to use a microfiber towel for curly hair, such as scrunching your curls. This action removes excess water once you have applied your leave in conditioner and styler ,and before you diffuse. If you prefer not to use heat, you can use our towel to assist with plopping the hair. 
Cuts Down the Drying Time
The fibers in a microfiber towel are more densely packed than in a traditional towel. Therefore they can dry their hair much faster. Microfiber is very absorbent, which is why it reduces the drying time. Whether you choose to air dry or diffuse your tresses, you will notice that the drying process is much shorter as the towel has done a lot of the work. Great news for us curlies who generally have longer wash days than those with straight hair. 
No Lint Left in Hair 
Traditional cotton towels are prone to shedding due to the material. This shedding is known as lint which transfers to your hair strands. I think it's obvious that nobody wants to have fluffy bits of lint in their freshly washed hair. Thankfully, Microfiber does not shed; therefore, lint in your strands can easily be a thing of the past.
Reduces Friction and Frizz
You often rub the towel against your strands when drying the hair. The texture of traditional towels creates friction and encourages frizz. You can avoid this with a microfiber towel, as its smooth surface avoids disrupting the cuticles and allows your curls to stay intact, resulting in less frizz.
Microfiber Towels are Easy to Wash and Dry
You can say goodbye to washing mountains of heavy towels that take a lifetime to dry. The lightweight fabric of the Curlsmith towel means that it's easy to wash, and when it comes to drying, it takes a fraction of time compared to, yes, you know what I'm going to say by now; a traditional cotton towel.
Which Other Materials do Curls Love? 
Further to micro fiber there are other materials that will serve your curls well such as silk and satin. These materials will benefit your locks in similar ways to the towel such as reducing breakage, preventing frizz, and reducing snags.  
Why Is Our Curlsmith Microfiber Best For Curls
Although many microfiber towels are on the market, those with fluffy or raised textures are not best suited to curly hair. We have designed our towel with a flat surface which is much kinder to your tresses. The flat surface smoothly glides over the hair without causing any damage while absorbing the access water from your locks.
Care For Your Curls With Curlsmith
Using Microfiber towels isn't just a trend; this hair accessory is here to stay. We know that caring for your curls is essential if you want healthy hair, but why stop there? Pair your new Curlsmith towel with some amazing hair products. Take our curl quiz, which will provide personalised recommendations to assist with a whole wash day routine. There's nothing better than knowing that you are providing your hair with all the goodness it needs to flourish.