Flawless Finish Hairspray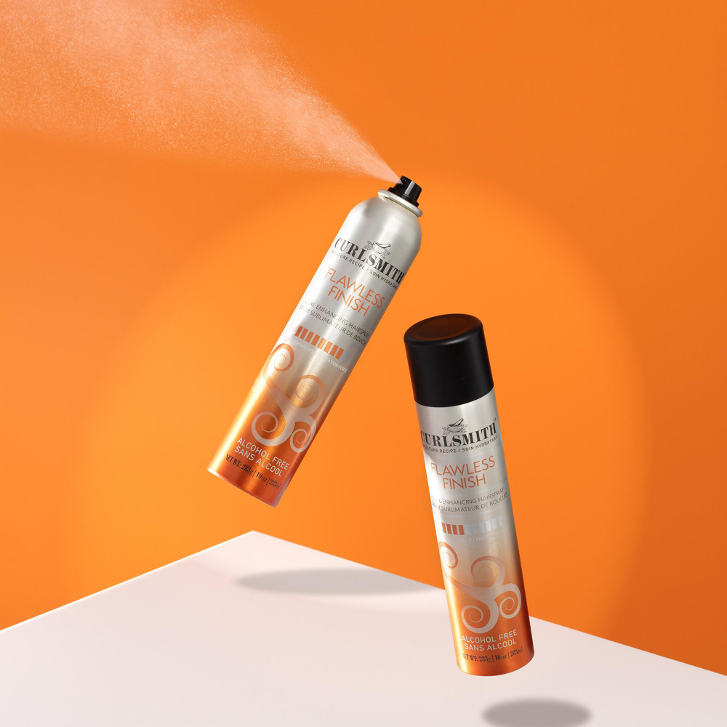 Hair spray for curly hair is finally here; Curlsmith has cracked the code to balance the benefits of hair sprays that are curl friendly without the crunchy feel. We have launched Flawless Finish hairspray, free from drying alcohols and silicones, to set your curls and tame those flyaways whether your wearing your curls down or rocking an updo. 
Having a good haircare routine ensures that your curls are on fleek, so set that style in place with our Flawless finish hairspray once your hair is 100% dry. There are various benefits to using our sprays let us take a closer look at each in detail.
Flexible hold
Your curls are styled, but you want to add some finishing touches to make them pop. Flexible Hold Flawless Finish is the perfect hair spray to provide long-lasting protection and volume while leaving your curls soft and bouncy. 
Stronghold
When creating an updo, the last thing you want is random curls to fall out of place. Our stronghold hair spray features the perfect amount of our unique polymer blend to keep your curls in check without creating a stiff, sticky cast.


Ingredients
When thinking about a classic hairspray, the term 'stiff, sticky hair' comes to mind, which we know is the last thing our curl friends need. Therefore our hairspray recipe contains curl-loving ingredients and leaves out the ones that they don't like, such as;
Key Ingredients include
Pro vitamin B5- adds moisture and shine to your locks
Unique Polymer Blend provides a bouncy hold with innovative technology for shape memory. This allows your curls to move and bounce freely and yet return to their original shape. An extra spoon is added to our stronghold hairspray to offer more hold to set your style in place.
How to use 
When thinking about applying hairspray, it's pretty straightforward. Follow this simple guide for the best results.
Apply either hairspray to your curls once they are 100%, whether on wash day or day 2 or 3 curls.

Shake the can before every application

Hold approximately 7-9 inches away from your hair 

Spray a light layer throughout your tresses to set your style
Our hair sprays allow you to enhance your final look; here are some pro tips to keep in mind depending on your requirements.
To encourage volume, gently shake your curls upside down and spray throughout your tresses. 

To smooth flyaways on an updo, mist a smoothing brush with the hair spray and then smooth your stray hairs with the brush.
Set Your Style with Curlsmith 
By now, you should be ready to achieve flawless curls for that flawless finish! All of our products are made with curl-loving ingredients, they are cruelty-free, curly girl friendly, and suitable for vegans. If you would like to know what other product would suit your curls, take our curl quiz to receive personalised recommendations.